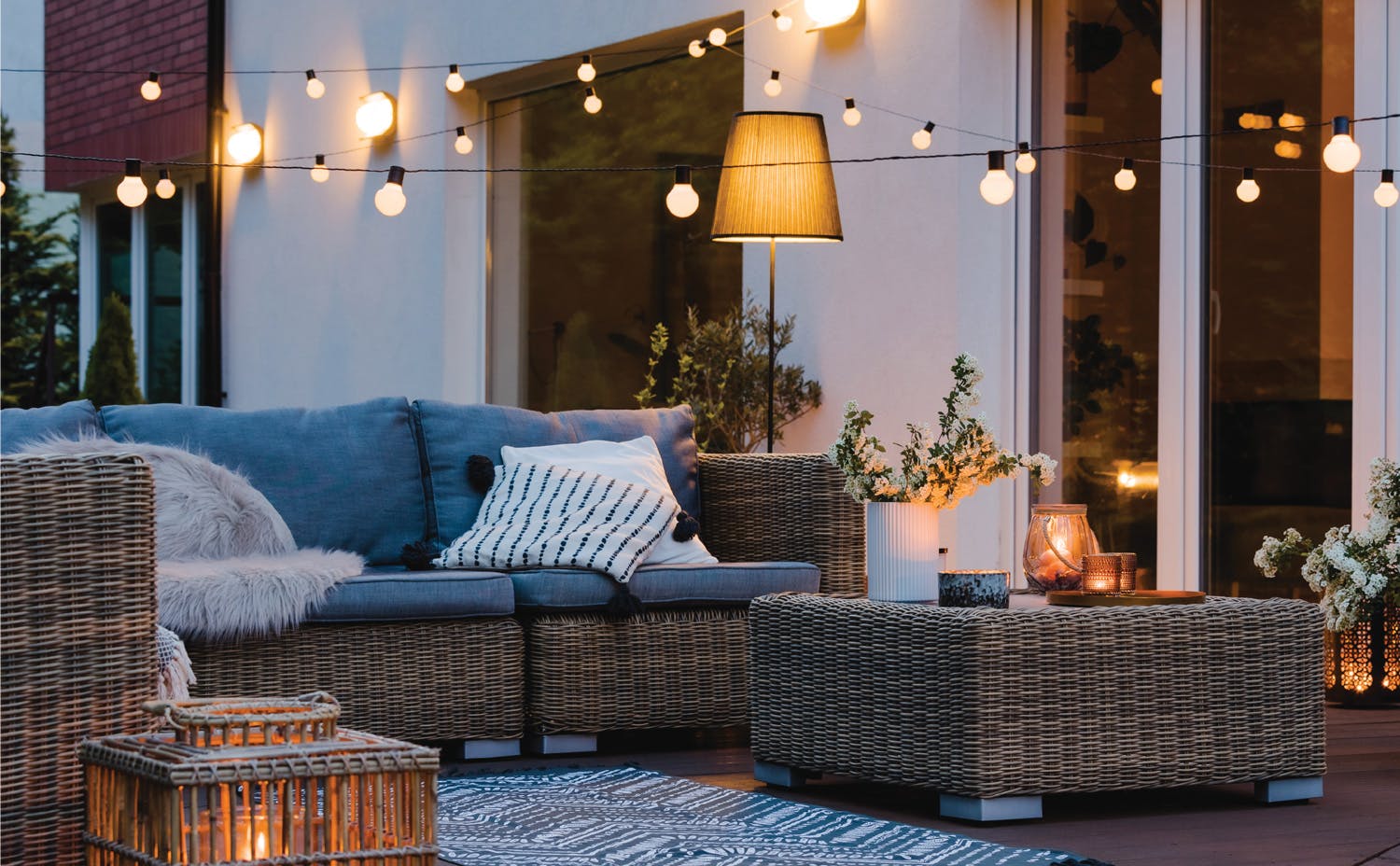 This summer's hottest outdoor renovation trends

With the global state of travel still in flux, many homeowners are choosing to spend their summer vacation dollars closer to home. As in, right outside their sliding patio doors.
Investing in your backyard is a great way to boost your property value while providing additional areas to gather safely for al fresco meals, refreshing swims or afternoons spent curled up with a good book. We asked two contractors to weigh in on the season's hottest outdoor projects.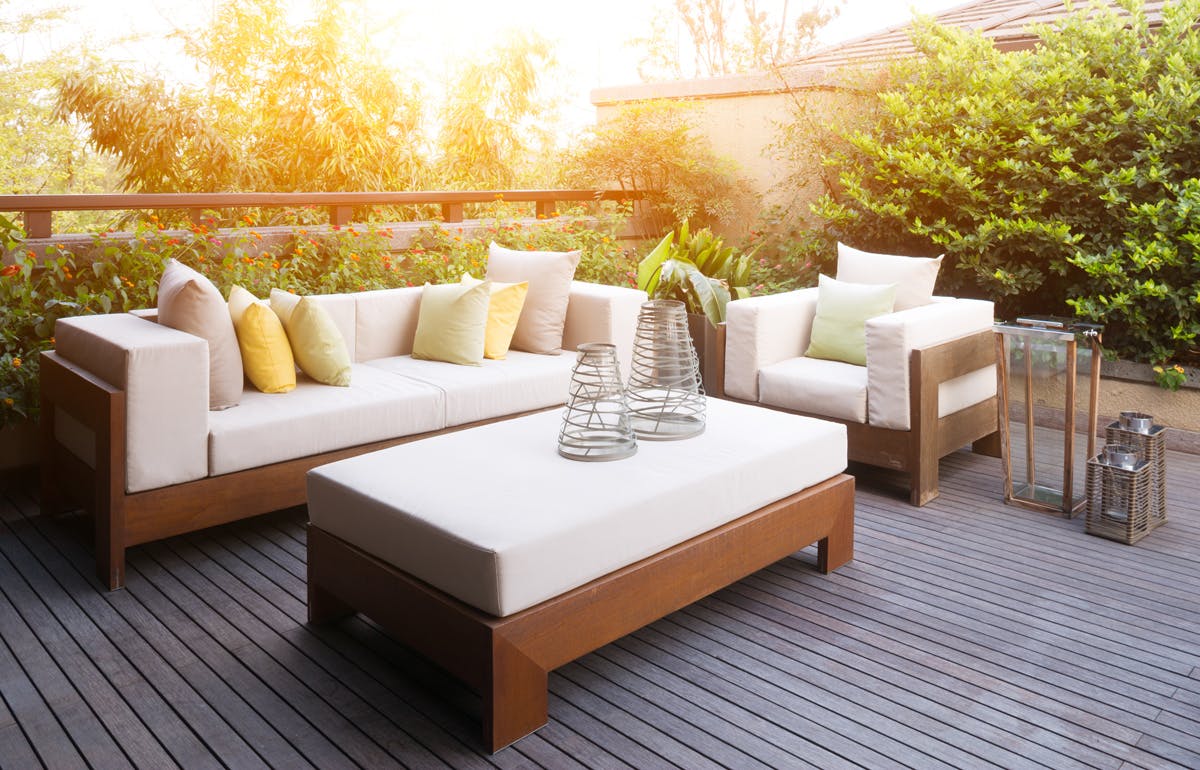 Set up a deck
The demand for outdoor improvements has exploded since last spring, and it all starts underfoot with the right deck, says Justin Szekely, owner and co-founder of Ace of Decks in Beaconsfield, Quebec.
"We've received unprecedented amounts of emails and calls from customers wanting decks," he says. "City permit offices, lumberyards, composite suppliers, the people who manufacture and install the footings–everyone has had more business."
"One of the biggest mistakes clients make is building multi-level decks that look beautiful in pictures, but there's nowhere to put their eight-foot-long sofa. You can't put half a table on one level and half on another," says Justin Szekely.
Deck building crews typically work from March through to December. Plan to spend about $3,000 to $4,000 on a smaller treated wood deck with space for a grilling and dining area. Multi-level decks can run in the tens of thousands of dollars, depending on the build. Tiered decks allow you to designate different zones for eating, lounging, and cooking, but you'll need at least a 12-x-24-foot space per level.
"If it's not big enough to put a table and chairs and a barbecue area on, you're wasting space and money," adds Szekely. "One of the biggest mistakes clients make is building multi-level decks that look beautiful in pictures, but there's nowhere to put their eight-foot-long sofa. You can't put half a table on one level and half on another."
A composite deck costs about twice the price of a treated wood deck, but it requires limited maintenance, which saves homeowners time and money in the long run, says Szekely.
"We always ask our clients how long they plan on staying in the house, and how committed they are to the particular backyard configuration," he explains. "If you're building a deck around an above-ground pool that might collapse in 10 years, maybe you don't need a deck with a 50-year guarantee."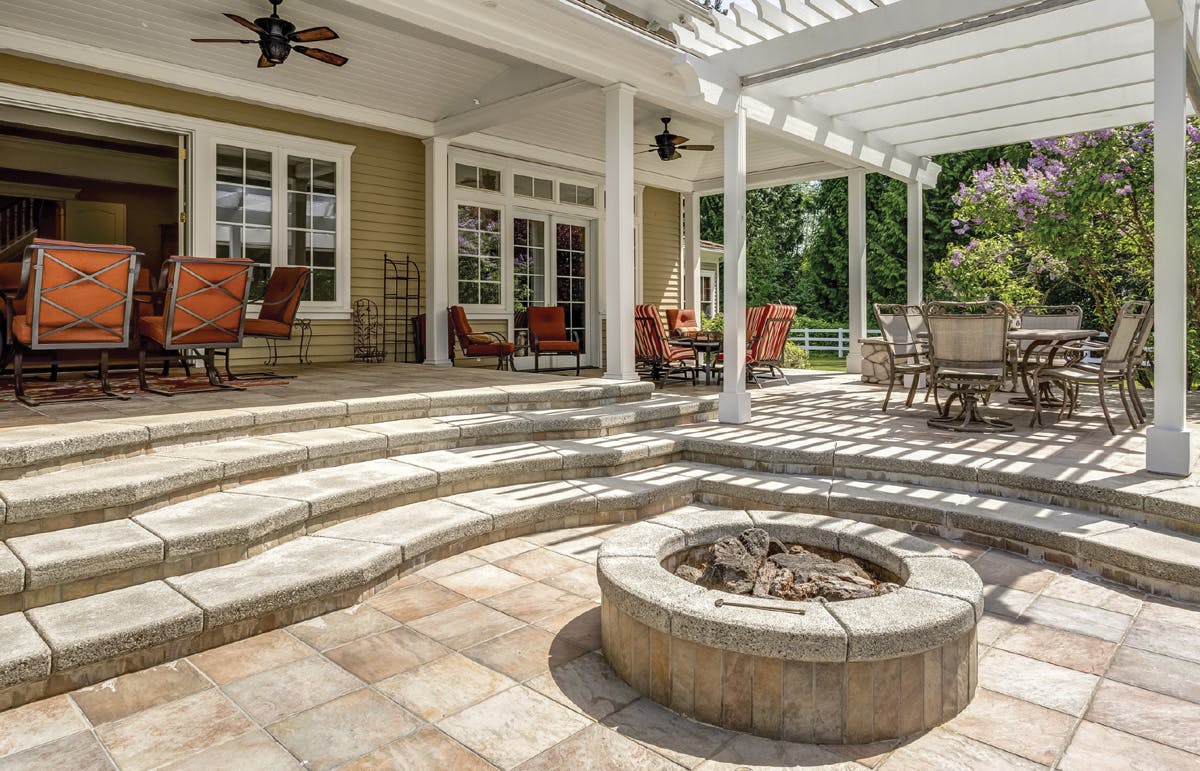 Pave the way for a patio
Stone patios are also in high demand, says Tony Cerulli, owner of Damy & Pat, a landscaping construction company in Montreal.
Price and project time depend on the size of the patio and the accessibility of the backyard. "A 100-square-foot patio could cost $2,500," says Cerulli, "But if I can't get my machinery in and we have to do everything by hand, it takes an extra day and a half to do it, which could double the cost."
Cerulli also offers elevated and multi-level patios made with paving stones and wall blocks. "There's more work involved because you have to build a retaining wall around a raised patio, which could cost between $70 and $80 a square foot."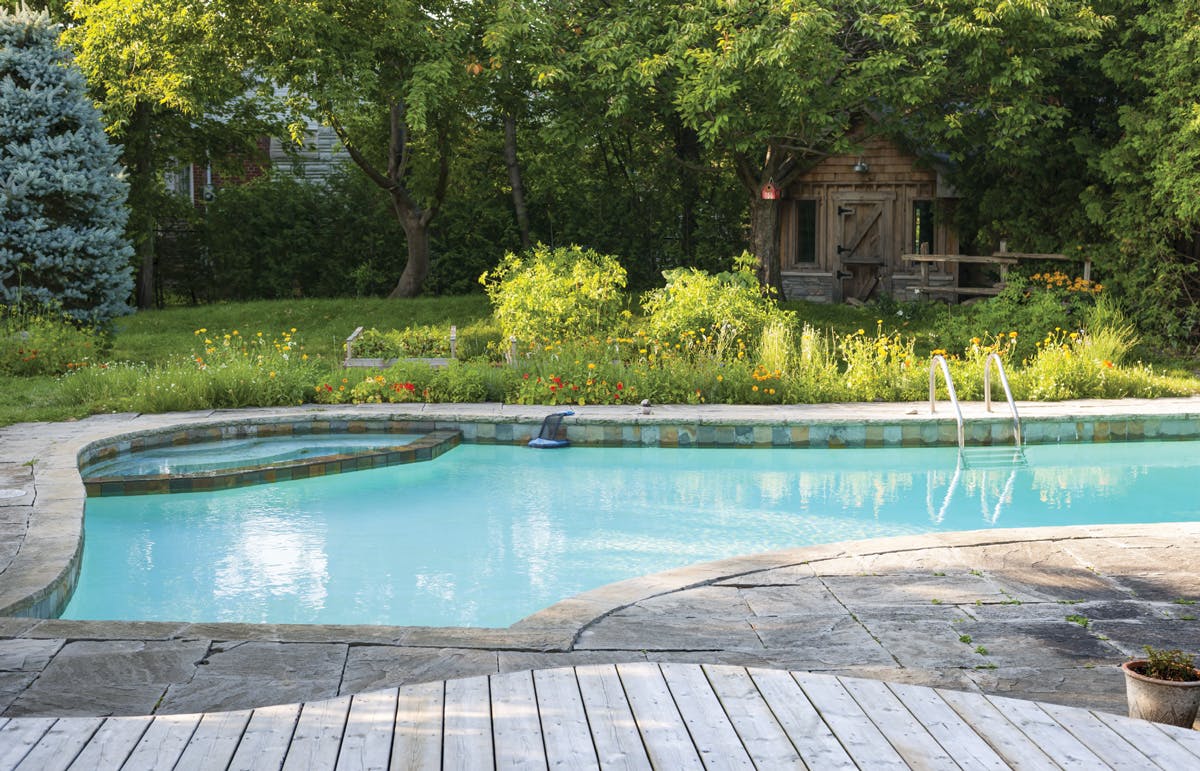 Take the plunge with a pool
Before the pandemic, Cerulli rarely received contracts to do backyard pools in urban areas. Now even city slickers are ready to take the plunge. In some neighborhoods, clients are sinking big bucks into splash pads, he says.
Damy & Pat specialize in custom in-ground cement pools, which means homeowners can choose any shape, size, or design they desire. It takes about a month to complete an in-ground cement pool installation, and a 12-foot-by-32-foot pool will run from $55,000 to $100,000 or $150,000, depending on the quantity and quality of stone used around the pool.
Liner pools are cheaper, says Cerulli, but a custom cement pool is worth the extra investment. "Liner pools look nice, but you can't add tiles inside the pool, and it can only be one color," he explains. "If you're going to spend money in your backyard to put a hole in the ground, maybe you should spend a little bit more to get the exact shape and size you want."
Damy & Pat's recent projects range from a 45 x 10-foot pool with no deep end for swimming laps to a pool with a six-inch deep beach area, equipped with a built-in umbrella stand and bubble machine for kids.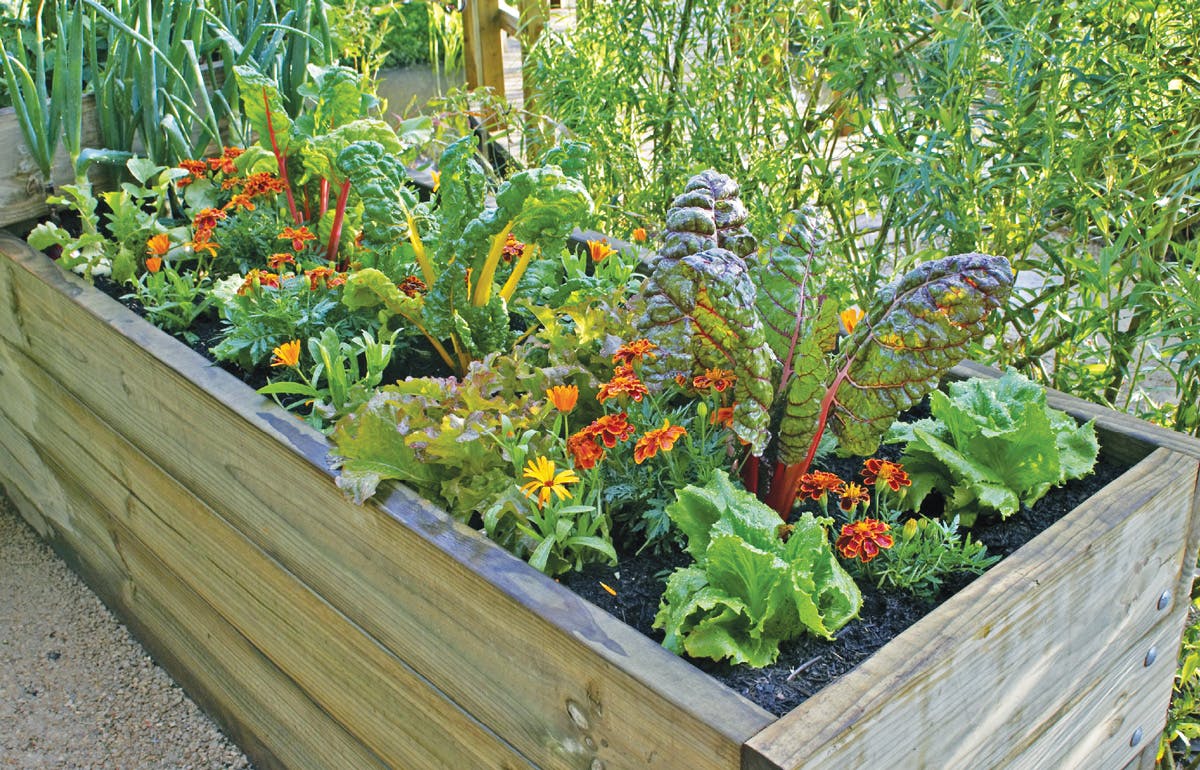 Grow produce in a raised edible garden
Another big pandemic trend that shows no signs of dying down is homesteading. Few things are more satisfying than sowing a garden that provides salad fixings, vegetables, and herbs all season long. Plus, gardening is a great family-friendly activity that drags kids away from their screens.
Cerulli offers several options for raised garden beds, which are easier to maintain than regular gardens. "We can build them out of wood or wall blocks, which looks really nice, plus you can sit on them," he says. Depending on the width of each bed, costs range from about $2,000 to $4,000.
Be sure to get them built properly so your plants can thrive. "When you install a raised garden, it's very important to put down a geotextile, then three-quarter inch net clean gravel, then another geotextile, and finally the earth so you have good drainage," explains Cerulli. "Otherwise, the water will rot the plant roots and they'll die."
If you don't want to plant or tend your garden, companies like Urban Seedling will do it for you. They bring and plant seedlings to your yard at least twice during the season and do regular maintenance. All you have to do is enjoy the harvest.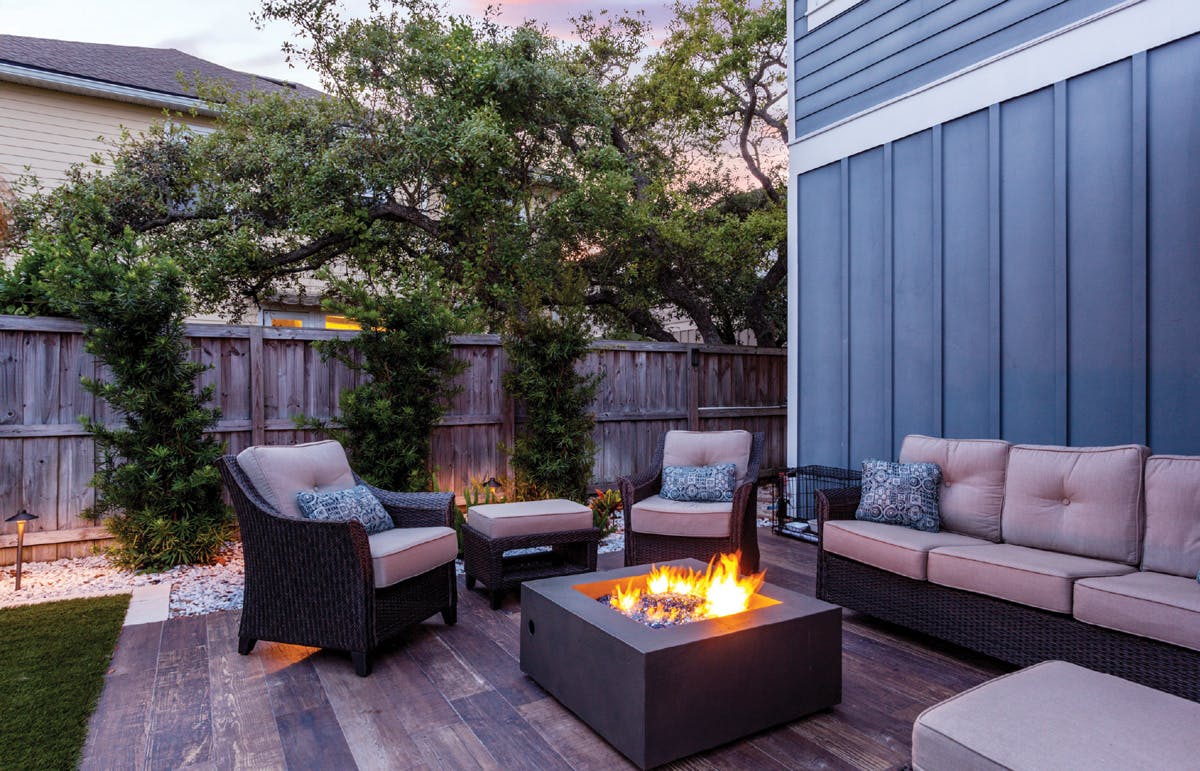 Spend cool nights around a fire pit
A fire pit lets you enjoy your backyard well into the fall season, which is particularly useful while indoor gathering remains limited.
Options range from prefab iron models to high-end stone focal points installed by contractors like Damy & Pat. "We're doing several fire pits right now," says Cerulli. "Homeowners are adding an area on their lawn where they can put a fire pit and sitting area to make the space homier."
These fire pits are usually made with stone, Techo-Bloc, or Permacon, and cost between $10,000 to $12,000, including the gas set up. "We make a hole for the propane line to come out, then the homeowner has to arrange to get hooked up. From there we do the rest."
Don't skimp on the details
Whatever improvements you add to your outdoor space, save some room in your budget for lighting and irrigation, advises Cerulli. "Outdoor lighting is gorgeous and doesn't cost a lot to run in terms of power," he says.
In-ground watering systems may not seem as glamorous, but they'll help you keep your backyard green. "Irrigation systems are important, especially for people with big backyards who put in a patio, new grass, and a garden," says Cerulli. "They only add five or six percent to the overall cost."
Before you start any outdoor work, read the legal fine print. "Municipalities have very different bylaws and processes to get your permits done, so make sure your contractors are familiar with your area," says Szekely. "Find someone you can communicate with effectively, someone you trust."
Our best stories, once a month.
By providing your contact information, you consent to Billdr sending you monthly emails. You can unsubscribe at any time.
Author

Wendy Helfenbaum is a Montréal journalist and television producer who covers real estate, design, architecture, gardening, travel, and food for many publications, including Apartment Therapy, Metropolis, AARP, Houzz, Cottage Life, Chatelaine, PBS' NextAvenue, Realtor.com, and Country Gardens. Follow her on Twitter.
About
Billdr Magazine is an online publication packed with design trends and inspiration, expert insights, and personal home renovation stories. From planning a major renovation to navigating construction and maintaining your beautiful home, Billdr Magazine is here for you.