The value of a detailed estimate for your renovation
Did you know that defining the project scope and getting a detailed estimate for your renovation is one of the most important (and complicated) steps? Unfortunately, the industry has not standardized the process, and it generally does not receive the attention it deserves.
In this guide, we'll explore why you should spend time defining your project scope early on, the difference between a traditional general contractor quote and a detailed budget estimate, and the benefits of having a detailed budget estimate before you get quotes.
Why is a Billdr estimate worth it?
Billdr's estimate provides you with a clearly defined scope of work, saving you time and money down the line.
Get a detailed breakdown of your renovations
Know what to expect with an itemized list of tasks, materials, and costs.
Avoid costly mid-project change orders
Solve potential issues before the project even starts.
Compare quotes easily
Gain more bargaining power to negotiate best pricing with apples-to-apples comparisons.
Why should you define the scope and budget of your project?
When planning a home renovation, you can spend weeks – and sometimes months – researching, compiling ideas, and discussing options before having a concrete idea of what you want to do. This vision must eventually evolve into a clear scope of work before requesting quotes from professionals. You need to have a clear understanding of the goal and requirements of your project so that you can communicate it clearly to the professionals that will do the work. But this process can be complicated and stressful. After all, it's not something you do every day.
When you reach out to a general contractor to get a quote, they will most likely give you a high-level ballpark estimate over the phone, but this will never be the final number. You will need to arrange a visit to discuss your project with them in more detail so that they understand your vision, clarify your needs and goals, and then provide you with a quote before moving forward with your project.
What challenges do general contractors face when providing a quote?
One of their biggest challenges is that most construction projects also include highly technical trades with fluctuating supply chains, volatile labor, material costs, and working with multiple subcontractors (who also need to be consulted). That is why it may be hard to compare quotes, assess prices based on the work that needs to be done, and accurately determine the contractor's understanding of the project.
As a result, both cost and timeline delays can impact your renovations. With that in mind, we advise our clients to budget an extra 15-20% to account for change orders (i.e. adjustments to the original scope of the project, whether it's adding or removing construction work) that may arise due to unforeseen challenges, or changes of heart, mid-project. The timeline may be impacted by several factors, including material delays, weather, scheduling conflicts, or scope changes.
What's the difference between a traditional general contractor quote and a detailed budget estimate?
A traditional general contractor quote
General contractors are extremely busy, and leading up to the high season, they can receive a high volume of inquiries from homeowners. They need to consult with subcontractors to provide accurate quotes, which takes time and planning on their end. As a result, they generally offer a high-level ballpark, and if there's budget alignment, they will consult their subcontractors, which more often than not will end up changing the price for the final quote. Established contractors can therefore be selective on which projects they move forward with.
A traditional quote will give you a general idea of renovation project requirements. It will include pricing for each category of construction work (e.g. plumbing), but not the specific tasks to achieve them (pipe installation, fixture replacement, drain clearing, etc.). In addition, each general contractor will have their own way of estimating, making it difficult to compare quotes.
A detailed budget estimate
One way to better prepare for your renovation is drafting a detailed estimate, such as the one Billdr provides. It will give you a more comprehensive look into your renovation requirements. Your project is broken down into an itemized list of tasks and their associated costs. A detailed estimate requires more time and effort to prepare but is well worth the investment when you understand the scope of work and know what to expect. This estimate gives you better grounds for comparing quotes and negotiating for the best pricing.
Use Our Renovation Planner To Plan Out A Seamless Renovation Process
Download it now by clicking the button below
The pitfalls of a traditional quote
Traditional quotes may be free but present certain limitations. They tend to only consist of a flat price with little detail on the scope of work, one price with a short brief describing the work, or prices broken out by type of trade.
To overcome these inefficiencies, the solution is to either create your own scope and itemized list or hire a professional to draft a detailed scope of work, project plan, and estimate for your project.
The benefits of having a detailed estimate from Billdr
Opting for the detailed estimate will give you more visibility on your project, get changes implemented more smoothly, and allow you to gain more bargaining power when negotiating. With a detailed estimate, you will receive the sequential steps of the project, the potential unseen events that may cause price increases, and a breakdown of the materials and labor costs for the project.
Get a step-by-step review of the project
A detailed estimate gives you a step-by-step breakdown of your renovation instead of a loose idea of what your project will look like. You can then review and confirm all the work requirements and the costs and considerations for each item.
Access an itemized estimate of cost
With an itemized list of tasks, you can then work with the general contractor to fully scope out the project upfront, align on the materials to be used and their associated costs, and discuss options with how to achieve your goals.
Easily modify your project budget
Since a detailed estimate provides a clear understanding of the work to be done, you can solve potential issues before the project starts. With a traditional quote, these issues tend to show up mid-project, resulting in costly change orders.
Minimize disputes with the contractor
A detailed scope of work combined with a project plan ensures goal alignment between you and the contractor fostering cooperation and commitment from the beginning of the project. This ensures that both parties work together to solve problems rather than engage in an unproductive back-and-forth.
Facilitate financing
A detailed estimate may facilitate the financing process for your property. When applying for a loan, you can share the detailed budget estimate document with your bank account manager to show how much the renovations will cost.
Traditional quotes may seem like quick, easy wins, especially when they come at no extra fee, but they lack substantial details regarding your construction. On the flip side, a detailed estimate will provide you with all the necessary elements to make informed decisions, obtain results that fit your budget and meet your expectations, and save you both time and money down the road.
Ready to tackle your home renovations?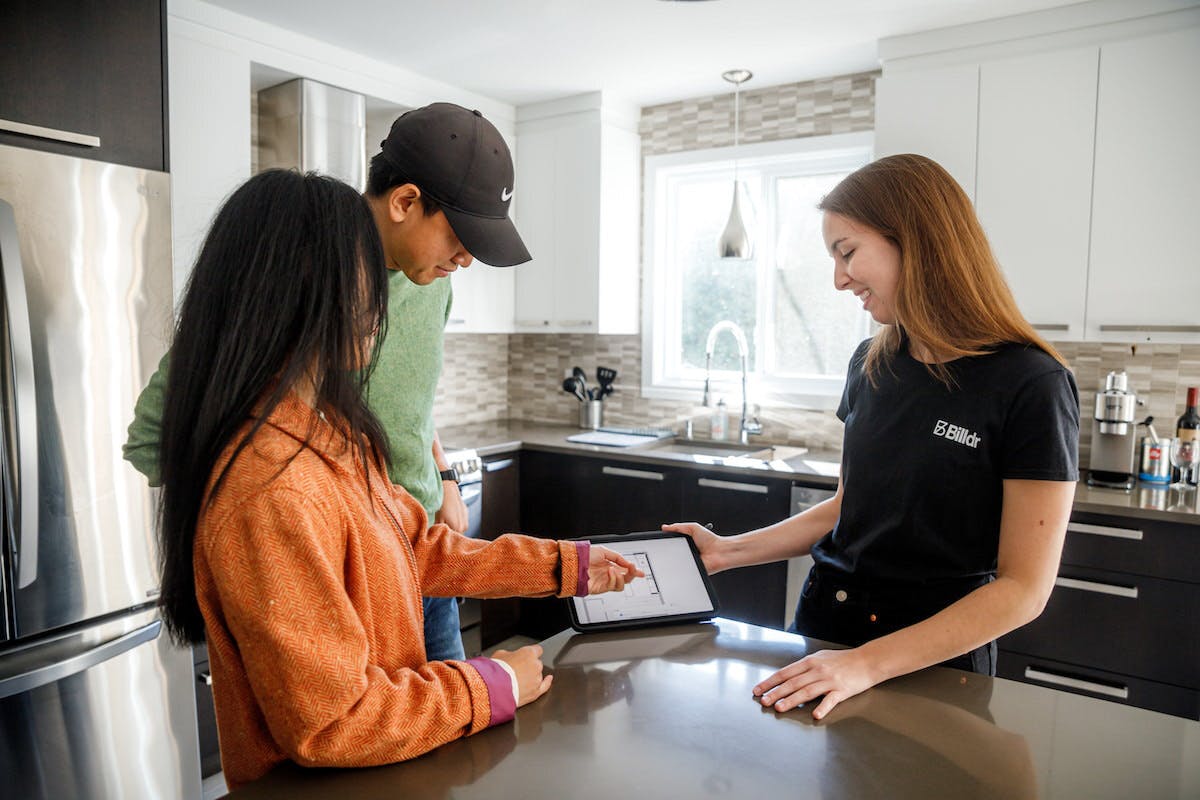 Eliminate surprises upfront with a clearly defined project scope, budget estimate, floor plans, and comparable quotes. Talk with a Billdr project manager to get your detailed estimate.