Billdr's ultimate kitchen renovation guide
They say the kitchen is the heart of the home. Even if you aren't an avid cook, having a comfortable, safe and yes, great looking, place to prepare food and gather with others is often top of mind for most homeowners. No two kitchen renovations are exactly alike but in all cases, whether you're looking to go all out with a high-end remodel—i.e. custom cabinetry and natural stone like marble— or have more of a budget approach, you'll need to keep function top of mind. That's why it might be a good idea to connect with a kitchen designer who can work with your general contractor to ensure your cabinet layout makes sense based on your needs.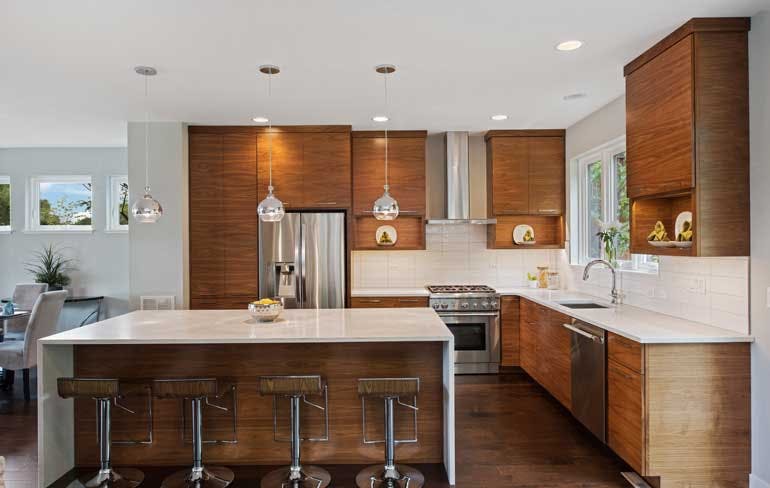 Evaluating your needs
If you've lived in your home for a while, you might already know what you like and dislike about your kitchen. Before embarking on the renovation make a list of everything that drives you crazy. For instance, if you mainly have cabinetry with doors and shelves, are you bothered every time you have to reach in to pull out a frying pan or pot? If so, you might want to invest in cabinetry with drawers, which improves access to cooking supplies.
If you are renovating your kitchen before you've had a chance to really use it, then try to identify your lifestyle. Do you cook most nights? Do you bake a lot? Do you have kids or plan to have kids? If so, you might want to consider more hard-wearing finishes like quartz countertops or laminate.
The devil is in the details so you can't really over plan your kitchen remodel. You might even want to get as granular as listing all your pots, pans, plates and small appliances and ensuring that your new cabinetry can comfortably accommodate them all.
Aside from storage and finishes, consider your existing kitchen's layout. Does it abide by the work triangle rule? Are your cabinet boxes in good shape but your doors are dated? Look into refinishing them or replacing just the doors. Do you have a range exhaust hood that vents to the outside? If not, that's an important upgrade and one you should absolutely consider if possible.
As with all renovations that involve electrical and plumbing, the most economical kitchen renovation will work with the existing layout. But ultimately, you are making an investment and if the layout doesn't work, spending a little more to make a more functional kitchen is always worth it. You'll be thankful every day that you decided to move your range or sink so you have more room for food prep.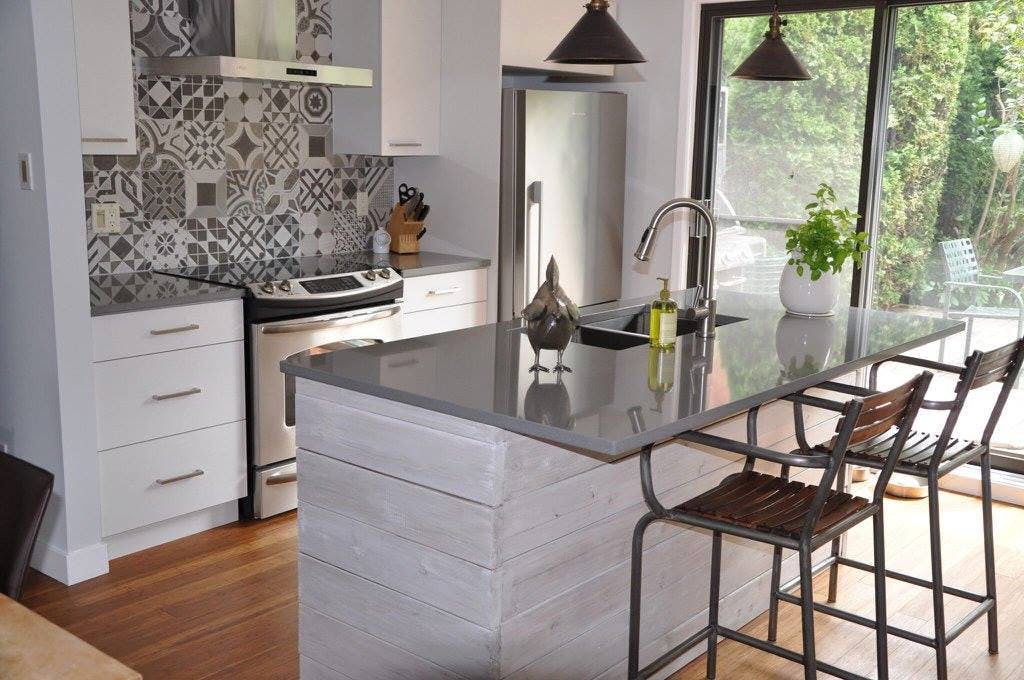 How much does a kitchen renovation cost?
The average materials and labour cost for a turnkey renovation of a typical kitchen is between $30k - $50k. But this price varies greatly depending on the extent of the renovation.
We used an average-sized L-shaped 12x13 kitchen with no island, engineered stone countertops, a freestanding electric range, double basin sink, dishwasher and standard fridge as our baseline. We also assumed that for this baseline, plumbing fixtures don't move, and all cabinetry is made of MDF or a similar material and are purchased from a big box store like Ikea or Home Depot.
See our pricing table below for more information based on the desired quality of renovation.

Quality
Budget
Mid-Grade
High-End
Luxury
Description
Standard kitchen
Standard kitchen with good material quality & higher durability
Kitchen with premium quality materials, finer details and beautiful interior design
Large kitchen with the best quality materials, custom cabinets, extensive lightning, finer details and interior design
Where to buy
IKEA
Home depot
IKEA
Home depot
Kwizine
Broder
Cuisimax
Espace cuisine
Cuisine Denis Couture
Pure cuisine
Espace cuisine
Cuisimax
Materials
$1k - $3k
$3k - $8k
$8k - $15k
$15k - $35k+
Labor cost
~$8k
~$10k
~$15k
~$20k
TOTAL
$9k-$11k
$13k- $18k
$23k - $30k
$35k - $55k+
The different factors that impact the cost of a kitchen renovation:
Custom cabinetry: +10%
Moving the kitchen sink: +5%
Adding a water line to your refrigerator: +2%
Upgrading to solid wood cabinetry: +10%
Refacing existing cabinets: -10%
Natural stone countertops: +10%
Laminate countertops: -5%
Wood countertops: -2%
Changing flooring: +10%
Removing a structural wall: +10%
Adding an island with dining area: +15%
Installing or moving a range gas line: +5%
Installing new ventilation: +5%
Painting the kitchen yourself: -10%
Installing a new under cabinet range hood: +3%
Installing a new chimney range hood: +5%
Adding pot lights: +5%
Adding under cabinet lighting: 2%
Changing kitchen appliances: +30%
Improving insulation: +5%
How long does a kitchen renovation take?
The average time to renovate a typical kitchen from demo to move-in, once materials are ready, varies between 2-6 weeks.
The timeline for a kitchen renovation depends on the scope of the work. In any well-managed renovation, all materials will be on site or have a confirmed delivery date before the renovation begins to avoid any delays. This means speaking with your contractor and designer and ensuring you have enough lead time. Some elements can come after the renovation is mostly done like the refrigerator, range but you don't want your contractor to be waiting on your cabinet boxes or flooring when it comes time to install them.
Also ensure you check with your city about necessary permits and leave enough time to get approval before starting the demo. A Billdr project manager will also be able to tell you what you might need a permit for during an initial home visit.
The different factors that impact the amount of time it takes to renovate a kitchen:
Changing cabinetry layout: +2 days
Replacing flooring: +2 – 5 days
Tiled backsplash: +2 days
Moving plumbing: + 2 days
Bringing in or demolishing a gas line: +3 days
Adding a 220V plug for range: +1 day
Upgrading ventilation: +2 days
Removing a structural wall: +1 week
Kitchen renovation vs kitchen relocation
What happens if you want to move your kitchen to a new location in your home? Maybe you would like a more open concept space and the current kitchen is cut off from the living areas. Maybe you want to take advantage of your home's best natural light and the current kitchen location is dark. That goes beyond a simple renovation and there are additional factors to consider.
To move our baseline kitchen to a new location in your home on the same level as the existing one, the average cost is between $50k and $60k and can take an additional 6-8 weeks.This assumes that you will need to complete design and permitting, install new plumbing, install new electrical/gas lines to accommodate the range, knock down a non-structural wall, and restore the previous space where the kitchen was located
A Billdr project manager will be able to help determine both the cost and timeline of moving your kitchen, and advise you on how to proceed with design and permitting.
The value of a kitchen renovation
According to the RE/MAX 2021 Renovation Investment Report, an upgraded kitchen yields the highest return on investment for sellers. But there are other reasons to renovate your kitchen including:
To create a more comfortable and modern space.
Expand your kitchen's footprint.
Upgrade to more energy-efficient appliances and water-saving fixtures.
Fix and get rid of any potential mold in the wet areas.
Have a more sanitary space for food prep.
Install fixtures that will make your kitchen more user-friendly like better storage.
Billdr's tips
Determine the length of any interruptions to your water supply and plan for it accordingly with your plumber and contractor.

Figure out if you can live in your home during the renovation. Living in your home during a kitchen renovation is do-able but you'll have to prepare. This means designating a space for dish washing like a laundry sink or bathtub and investing in portable hotplates. In essence you are creating a bare-bones makeshift kitchen in a spare room or living room that will allow you to keep cooking in your home.

Make sure there is space in your home to store all the construction and renovation material to avoid transporting them on-site every day.

Work with a trusted contractor

Check with your municipality if you need a building permit ahead of time. They are usually required if you are relocating your kitchen or moving plumbing fixtures.

Figure out exactly what you want and need from your kitchen, either with your contractor or kitchen designer, or through research before you break ground. It's better not to make decisions on the fly.
What to look for in a contractor for your kitchen renovation
All Billdr contractors are vetted by our expert team so you know that you are getting someone reliable to work on your kitchen renovation. But when it comes time to select from your different bids, make sure you take the following into account:
Do you and the contractor have the same overall vision for your kitchen renovation?
Do you like the contractor's communication style?
Do you feel your contractor is being transparent with regards to pricing?
Is the contractor willing to work with your budget and suggest cost-saving alternatives?
Can your contractor customize your in-stock cabinetry if necessary?
Is the contractor up front about the scope of your renovation based on your budget?
Does the contractor's availability and timeline meet your needs?
Do you like the contractor's material samples and portfolio of past projects?
Important questions to ask your contractor
How does moving a kitchen impact your existing space?
Do you need to alter any structural elements to make space for your kitchen?
Do you need to run a new plumbing stack to accommodate the new kitchen?
Do you need additional permits to move a kitchen?
Can you re-use your existing cabinetry?
Overwhelmed With The Kitchen Renovation Process? Our Project Managers Are Here To Help
When you work with Billdr, you'll be assigned one of our experienced Project Managers to handhold you throughout the renovation process. Learn more about our Project Management service.