Why should you work with Billdr's general contractors?
Finding a reputable and trustworthy general contractor is one of the biggest challenges when it comes to starting your home renovations. Homeowners often share that their search for a contractor can take up to weeks or even months, and will be riddled with uncertainties and misinformation.
Billdr built a network of vetted and certified general contractors to make it easier to find the perfect fit for your project, based on scope of work, pricing, and skillset. Before diving into the benefits of hiring a contractor from the Billdr network, we break down our recruiting and vetting process as well as the requirements to join, and why it's most cost-efficient to work with us.
Contractors go through a rigorous vetting process
We connect with contractors through three different methods: direct applicants requesting to join Billdr's network, outreach leads, and referrals.
Applicants are people who apply to be a certified Billdr contractor through our website.
Outreach leads are top-notch contractors that we personally reach out to after recognizing their high-quality work.
Referrals are contractors that our network of construction professionals, such as architects, designers, and engineers recommend to us. Referrals can also come in through our clients or other contractors.
Requirements to join the network
At Billdr, we understand that every project is unique and have their own specific needs. That's why we are committed to having a diverse network of contractors varying based on location, company size, expertise, and pricing. However, all contractors abide by a standard set of requirements. They must have:
Minimum five years of construction experience
A valid general contractor license
Not received any complaints from government agencies

How we vet contractors
To ensure that all contractors within the Billdr network meet the above criteria, we use an extensive vetting process. We're very thorough when it comes to contractor selection, so we only onboard the best that there is.
Online form: Through the application form that contractors fill out, we are able to gather the necessary documentation to perform our due diligence.
Phone call screening: During this 30-minute phone call, we explain how Billdr works for contractors and ask them questions that came up when we reviewed their documents.
One-on-one meeting: A member of our customer success team or a Billdr project manager meets the contractor in-person to go over our process. We break down the benefits of joining the network, how the ACQ warranty plan works (Québec only), and Billdr's rules and regulations, which the contractor has to sign and comply with.
On-site visit: A Billdr construction expert visits one of the contractor's jobsites. We verify its cleanliness, confirm whether construction codes are respected, and determine the speed of work.
Reference check: We also contact two references given by the contractor to assess their professionalism, communication and problem-solving skills, responsiveness, and price range.
Portfolio and licenses: We gather photos of jobsites to build a custom portfolio for the contractor. This portfolio will not only showcase their best projects, but also detail the type of work they are interested in, the location where they want to work, and their main skills. We also collect their insurance and licensing information.
Use Our Quiz To Find Out How Much Your Renovations Will Cost
Click the button below to start it now
What are the benefits of working with a Billdr-certified contractor?
Ensure high-quality workmanship
Through an in-depth review of their experience, past projects, and licenses, our strict vetting process ensures that every single contractor in the Billdr network is dependable, competent, and offers high-quality renovation services.
Find a contractor faster through our network
With us, you are quicker to start your project by skipping the hassle of searching for a contractor on your own. It can typically take up to months before hiring a professional, but we speed up that process by pre-vetting contractors and making sure that they are the right fit. Save weeks off your timeline by getting connected with contractors who are ready to begin work on your renovations.
Receive two-to-three comparable quotes
Contractors in the Billdr network bid on projects after receiving the same scope of work. They then submit quotes based on the same detailed task breakdown, so you know exactly what you are paying for. This gives you more purchasing power as you're better equipped to make well-informed decisions.
Have a clear line of communication with your contractor
Communication with your contractor is facilitated by Billdr project manager who advocates on your behalf, from planning to construction. This ensures that your vision comes through since both professionals speak the same language, so things won't get lost in translation. On top of having that dedicated support throughout your project, you will also be kept in the loop with your renovation progress.
Is it more expensive to hire a general contractor through Billdr?
The quotes submitted by our contractors are on par with market prices. However, you will receive two-to-three submissions for your project from different contractors, and will be guided throughout the process, so you can choose between competitive quotes while being aware of how much things should cost. In addition, you'll save time spent on research by being connected to qualified contractors who are a good match for your project. So, your overall costs will be lower.
The process of finding your general contractor can be convoluted and time-consuming. It is especially difficult when you are not familiar with the industry and its market prices. Through Billdr, you will have access to pre-vetted and certified contractors and all the support you need for a successful renovation.
Ready to tackle your home renovations?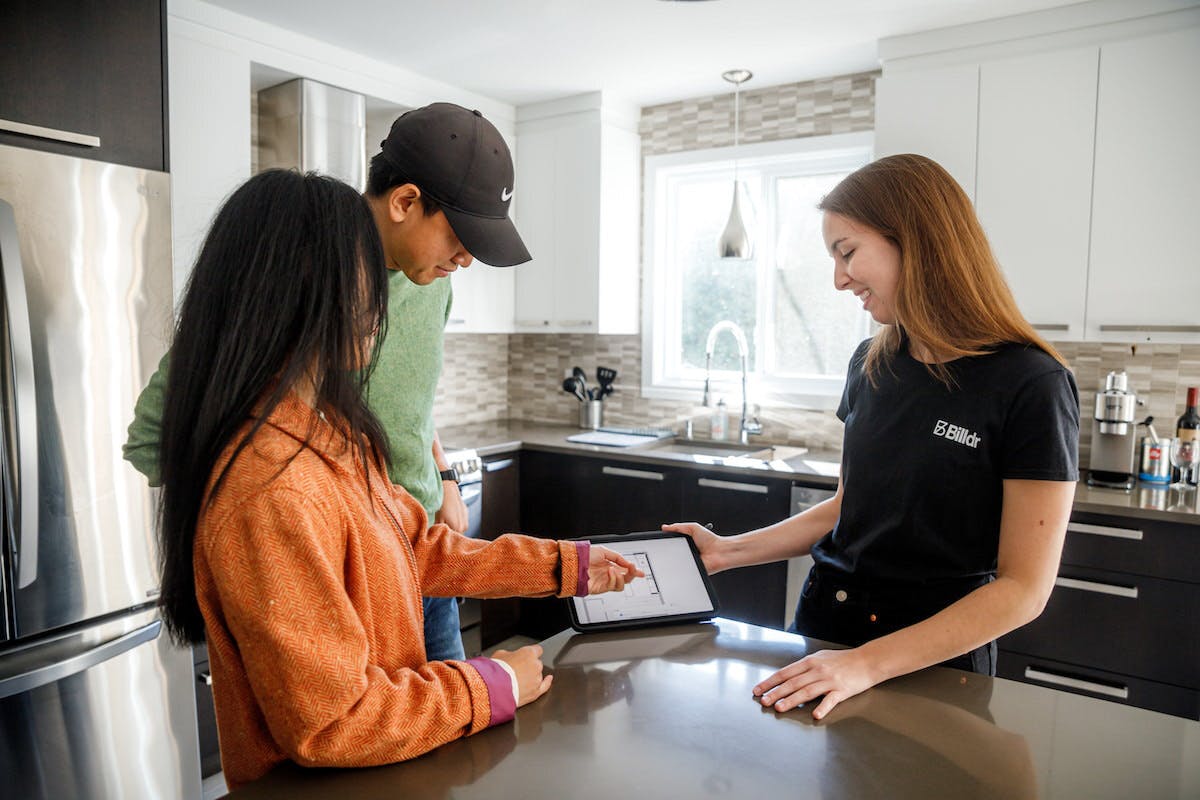 Billdr helps you plan your project right the first time, so you can eliminate surprises upfront. Tell us more about your project, and get connected to a vetted general contractor now.