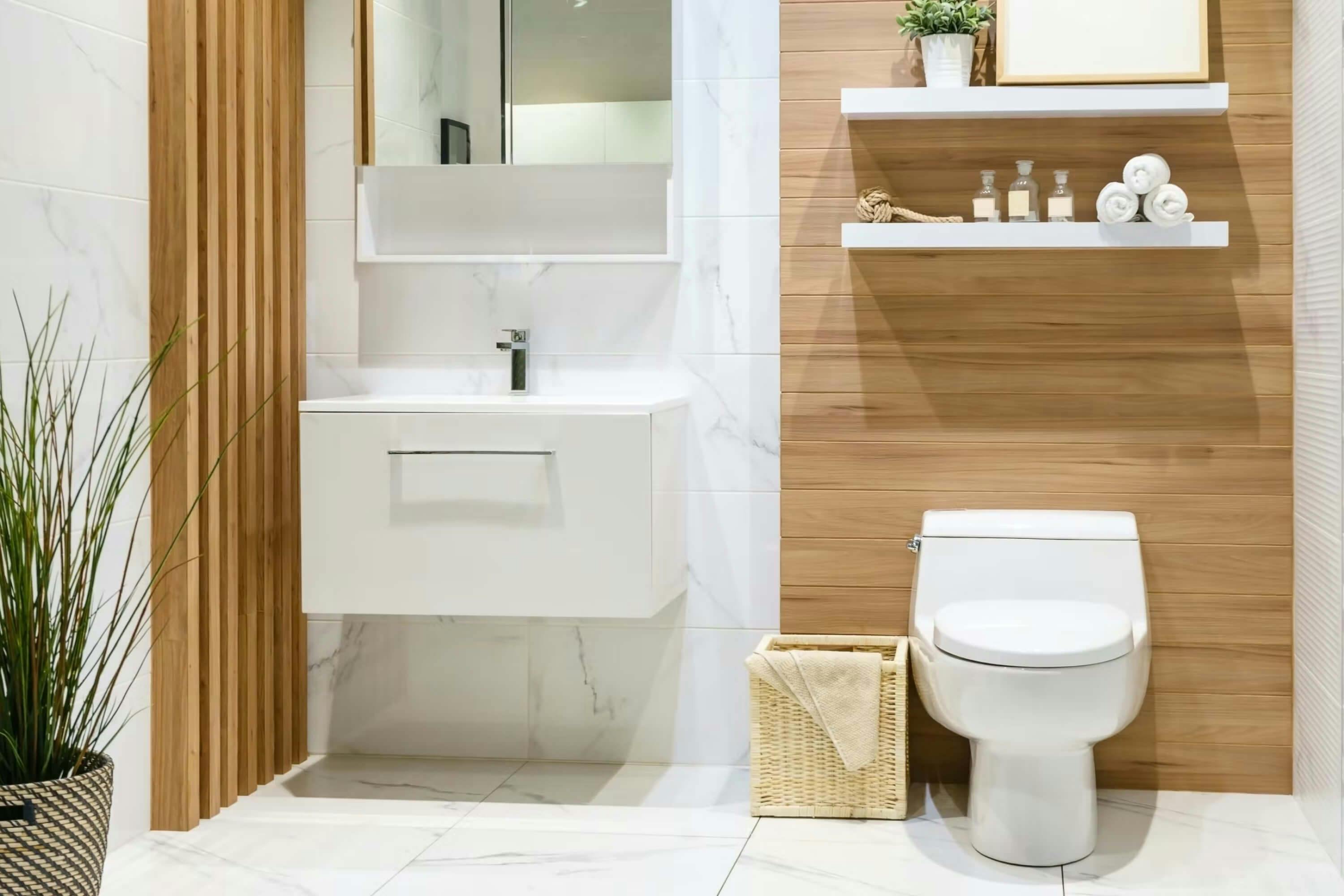 5 splashy alternatives to bathroom tiles
Anyone who's lived in an older home will recognize the hallmarks of a Victorian-era bathroom, like mosaic floors or subway-tiled walls. Bathroom tiles were once cutting edge because they kept out germs and were durable compared to alternatives. With advancements in technology, an abundance of alternatives is now available for anyone wanting to break from traditional bathroom design.
Ditching bathroom tile has practical benefits, including eliminating time spent cleaning mold off grout or avoiding leaks caused by loose slates. There are also aesthetic pros, since some alternatives cost much less while still being highly customizable. Here are five alternatives to bathroom tile, and what to keep in mind as you weigh each option.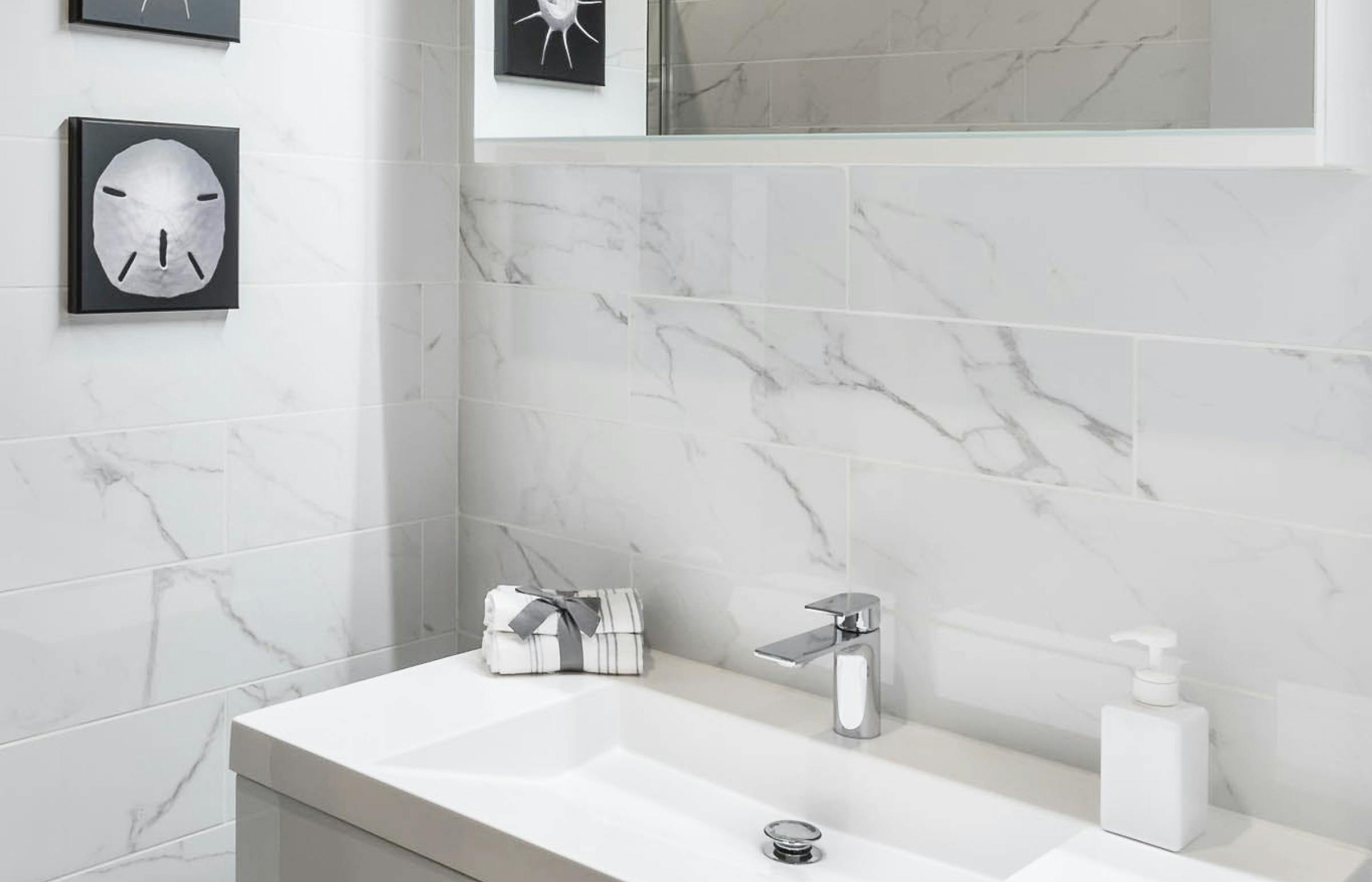 1. Marble
With an array of colors to choose from and each cut of stone unique, marble is a timeless choice that offers something for every taste. According to Yan Margulis, owner of Capable Group, a Toronto-based design and renovation firm, marble slabs are great for those who want smooth and cohesive walls—particularly in the shower. "It looks beautiful because the texture isn't broken by any lines," says Margulis. The most glaring setback with marble is the cost: The material is among the most expensive on the market.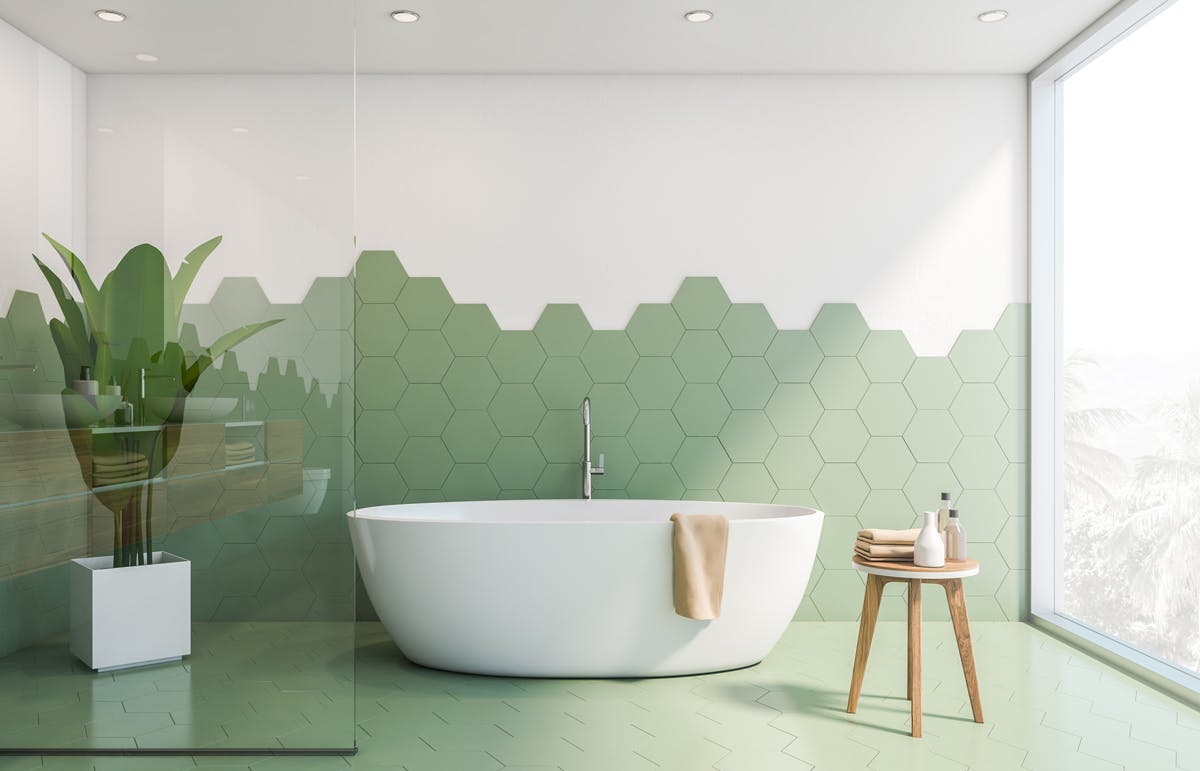 2. Porcelain
Consider porcelain marble's more affordable cousin. "It's made to mimic marble and you can get any kind of color or texture," Margulis says. Another benefit to porcelain is that it doesn't have to be sealed to be water resistant. So inside and outside the shower, there's no need to worry about the long-term effects of steam or spray. Margulis notes that ordering porcelain in larger sheets instead of tiles will raise the price, but the end result can be stunning.
3. Wallpaper
Wallpaper is a simple, cost-effective way to splash personality into any room in the house, bathrooms included. Another point in wallpaper's favor is the fact that it has become very user-friendly over the years. There are now peel and stick options on the market for anyone hesitant about the time and cost of traditional wallpaper installation, which can be complicated. The downsides? Bathroom moisture can weaken adhesive and cause peeling. It's also possible to nick the paper, especially in high-traffic parts of the house like bathrooms.
You may also like How to give your bathroom the spa treatment: the experts weigh in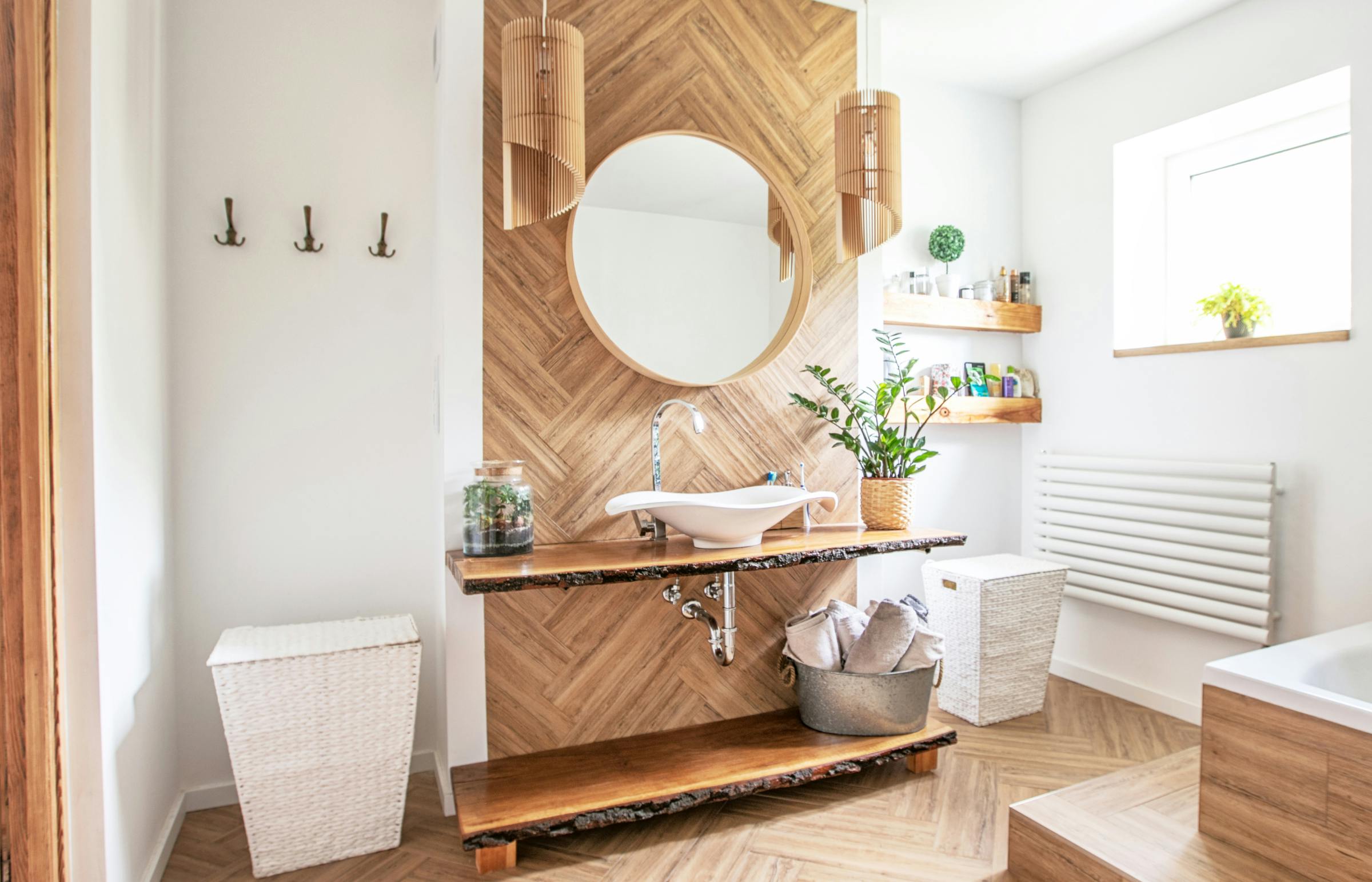 4. Wooden Plank
For anyone who enjoys the look of tile but doesn't want the hassle of cleaning grout, wooden planks offer the best of both worlds. Since they're available in varying widths and lengths, they can be stacked and fashioned like tile, but don't require extra material to fill in the gaps. For anyone going this route, good ventilation to help eliminate moisture is a must. This will help protect the walls behind the planks from molding and rotting. Sealing the wood also works to that effect.
5. Acrylic Panels
Among the most budget-friendly alternatives for tile is acrylic, a plastic-based material that can be installed in large panels over wood or steel studs in bathroom walls. Margulis notes that this option is significantly less expensive than more premium materials, and installation can usually be completed in a day. In shower interiors, caulking and silicone can fill the corners, eliminating the need for grout. However, Margulis cautions that just like any other material in the vinyl family, acrylic is susceptible to discoloration over time.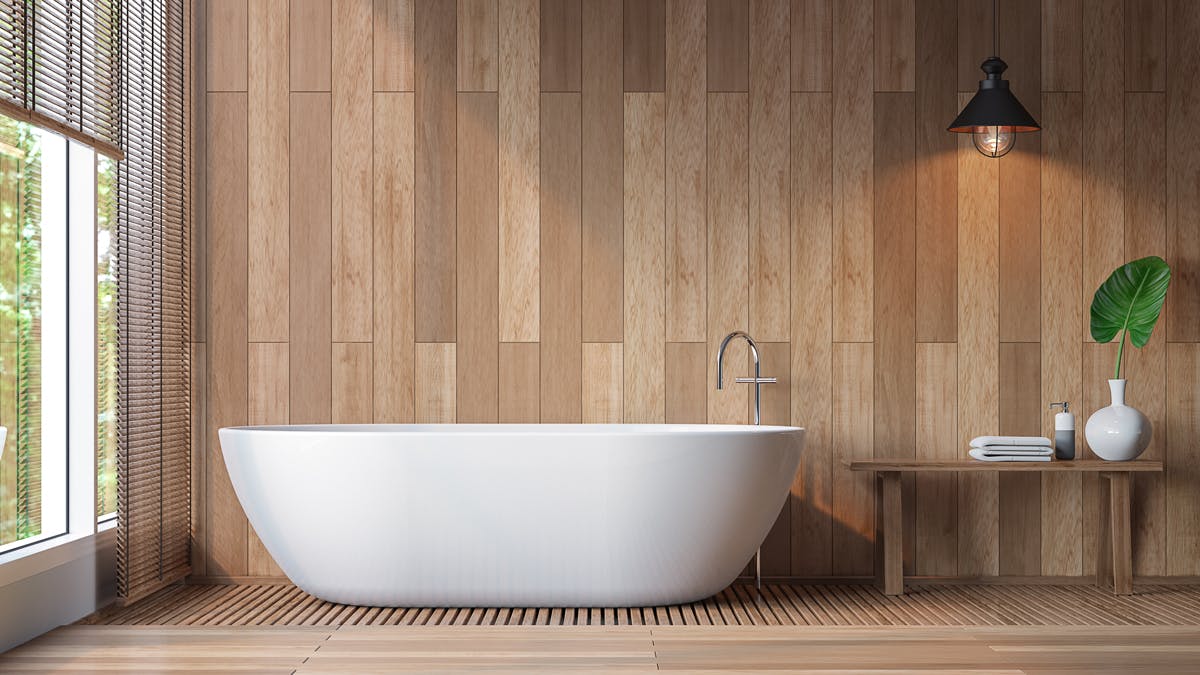 Billdr's complete guide to bathroom renovation
Whether you'd like to replace your bathroom tiles with lavish marble or trendy wallpaper, Billdr's bathroom renovation guide is a good place to start.
Our best stories,
once a month.
By providing your contact information, you consent to Billdr sending you monthly emails. You can unsubscribe at any time.
Author

Nicole is a writer, podcast producer, and journalist based in Toronto, Canada. Follow Nicole on Twitter.
About
Billdr Magazine is an online publication packed with design trends and inspiration, expert insights, and personal home renovation stories. From planning a major renovation to navigating construction and maintaining your beautiful home, Billdr Magazine is here for you.