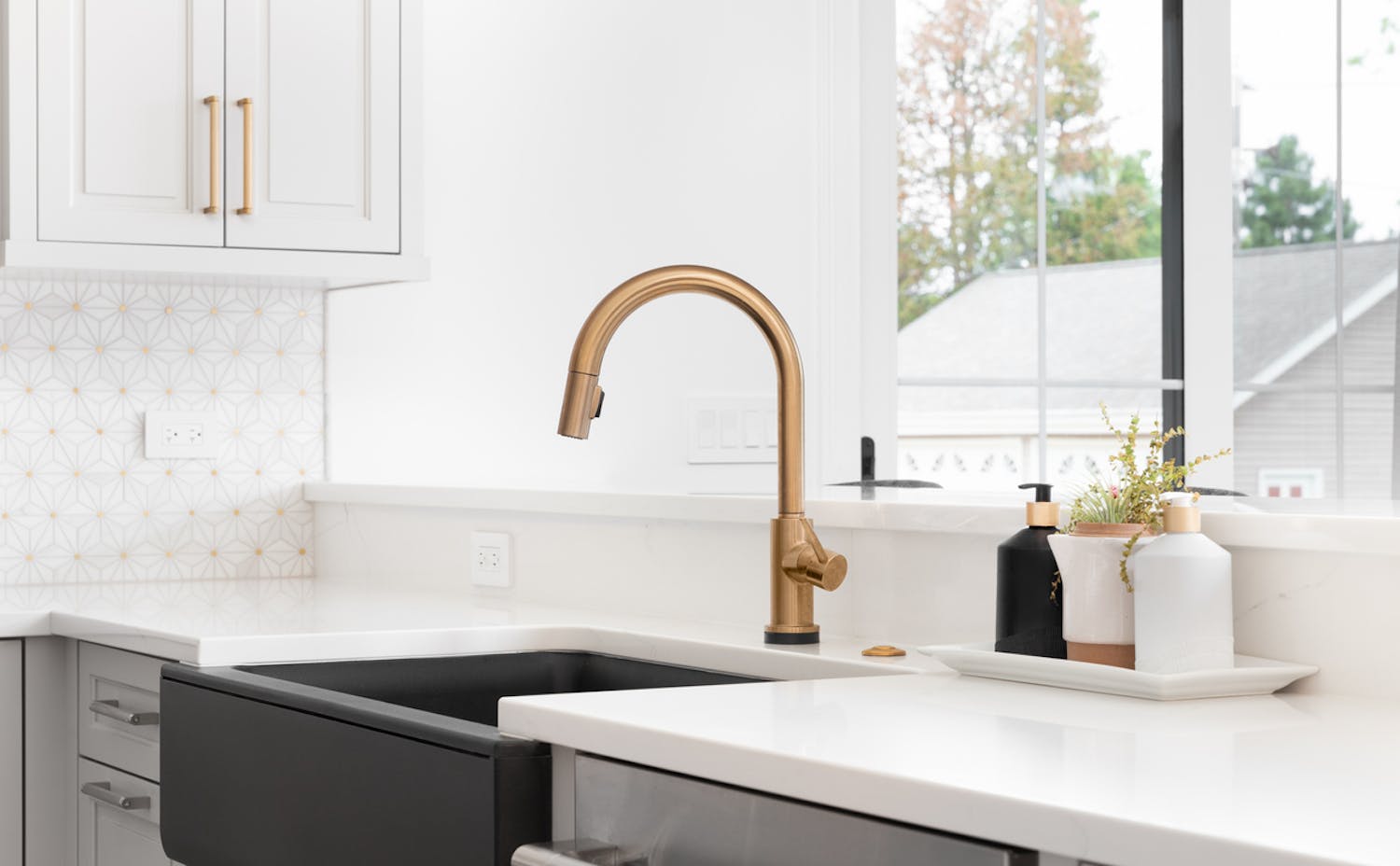 Farmhouse sinks, deconstructed
As anyone who has ever seen a knockout kitchen in a Nancy Meyers flick knows, farmhouse sinks aren't just for those inclined to churn butter. What originated as a spacious receptacle for buckets of water in rural households without plumbing can now be found everywhere from the Martha's Vineyard summer home of Lynn de Rothschild (yes, of those Rothschilds) to sleek, urban bachelor/ette pads.
With signature deep basins and long faucets, farmhouse sinks are equipped for your multifunctional needs. Dive into a deep-dish scrub, bathe a dirty beast (of the child or dog variety), or store ice for a party's worth of brewskis. On social media, one can spot sinks overflowing with flowers, but their stone, steel—and even leather and lava—finishes make them a statement piece all on their own.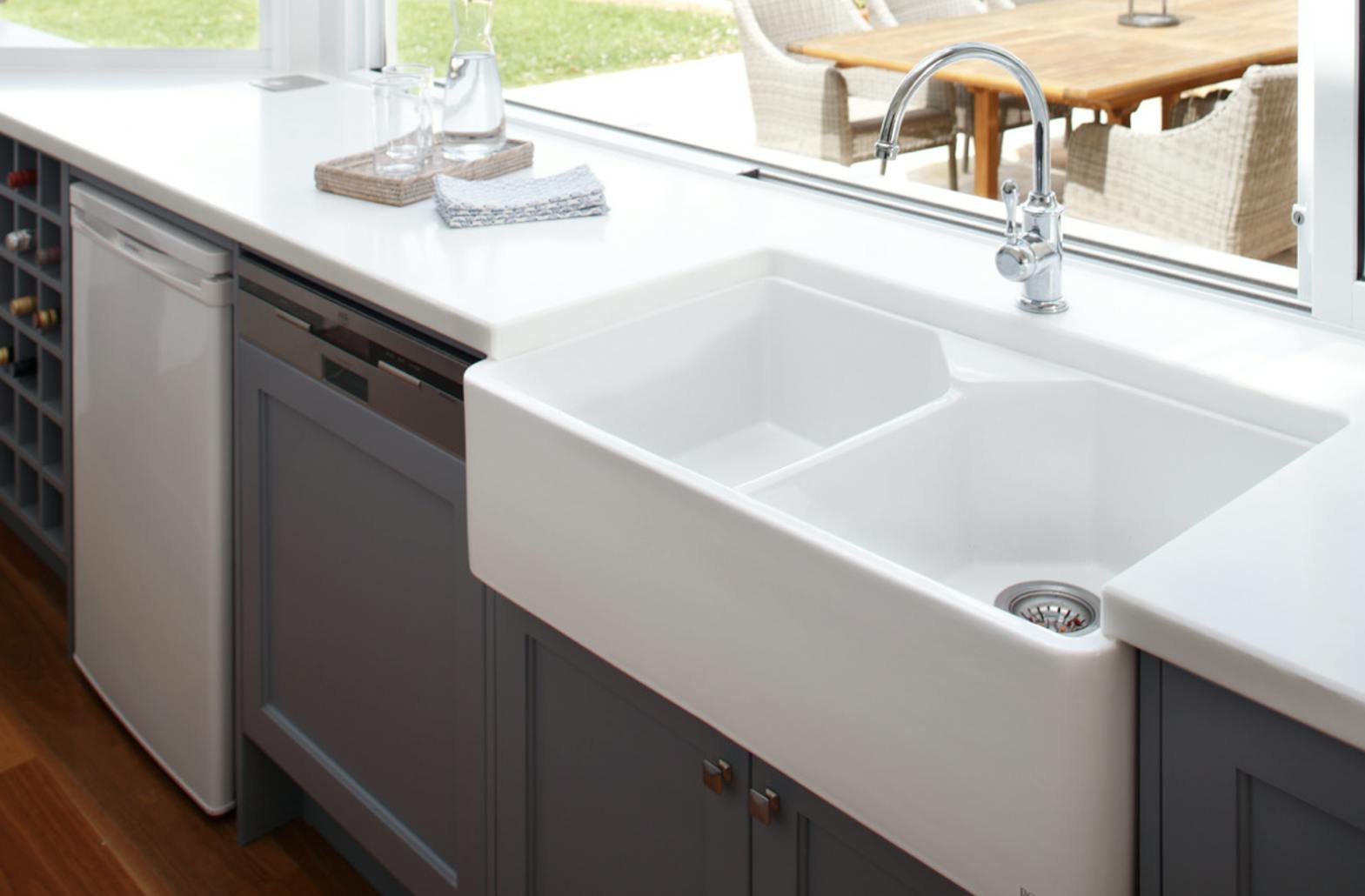 Brief history
16th century: European households put deeper, more durable sinks to the test with everything from food prep to the washing of clothes and children. Designed to ease labor-intensive tasks, the lower position and removal of a cumbersome, sharp-edged countertop provide ideal ergonomics for those who bend over to perform their duties.
17th-18th century:
Butler sinks: Butlers soak and scour large items in the pantries of Britain's landed gentry. Hence, the larger size of the sink to which they lend their title.
Belfast and London sinks: Apron-front designs cater to coastal and deep-welled water supplies with more or less drainage, respectively.
19th century: The French create a more elegant model with thin walls constructed out of fine, white clay from Limoges, an area still known for its exquisite porcelain. Nevertheless, they retain the sink's trademark strength.
1920s: Now made in trendy cast iron, farmhouse sinks sweep through the American market.
1940s-70s: Copper, nickel, and other resources are gobbled up by the war effort. Then, in the postwar boom, American middle-class families opt for affordable mass-produced undermount sinks in stainless steel.
May 23, 2013: Fixer Upper with Chip and Joanna Gaines debuts on HGTV, ushering in the age of the Modern Farmhouse.
2015: The popularity of farmhouse sinks spills into laundry rooms and mudrooms.
June 2020: The OED adds the word "farmhousey" to its dictionary.
August 2020: Worldwide searches for "farmhouse sink" on Google hit an all-time high.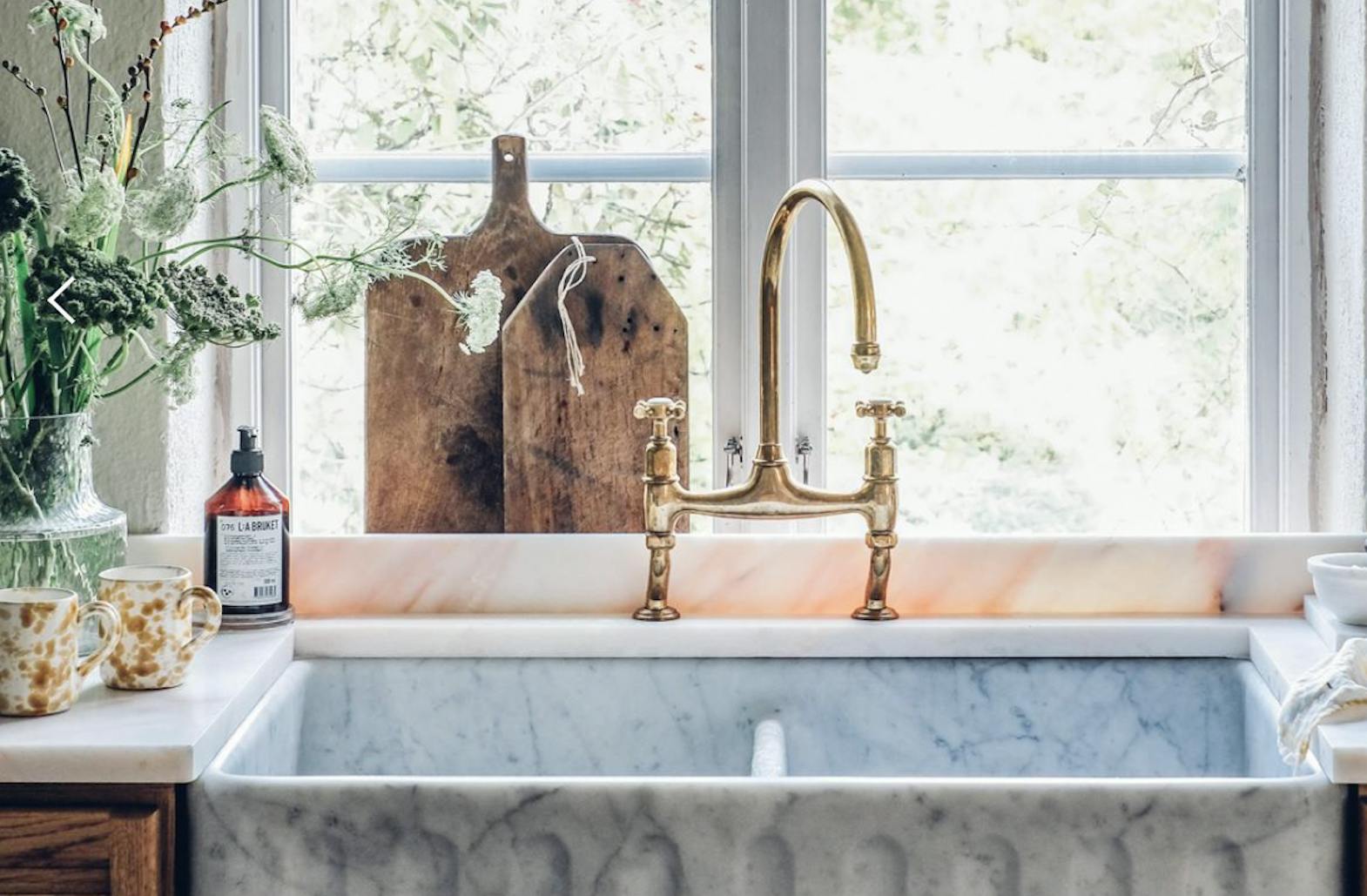 By the numbers
1st: The top province for Google searches for "farmhouse sink" over the past 12 months is Nova Scotia, followed closely by New Brunswick, Saskatchewan, and Ontario.
5: The number of years Kohler has reported "steady sales growth" for its farmhouse sinks.
7-10 inches, 100-200 pounds: Standard range of depth and weight, according to This Old House, though they can weigh over 300 pounds when the sink is full.
$200-$300 and up: The baseline cost for farmhouse sinks on Wayfair.
82.5K (and counting): The number of posts tagged #farmhousesink on Instagram (#apronsink and #butlersink trail the more common name by tens of thousands of posts).
$4,015-$6,545: The approximate cost of a Tuscan Farmhouse Carrara Marble Sink from DeVol "machined from a single block of fine Italian marble" (the same type of marble Michelangelo used to sculpt the David).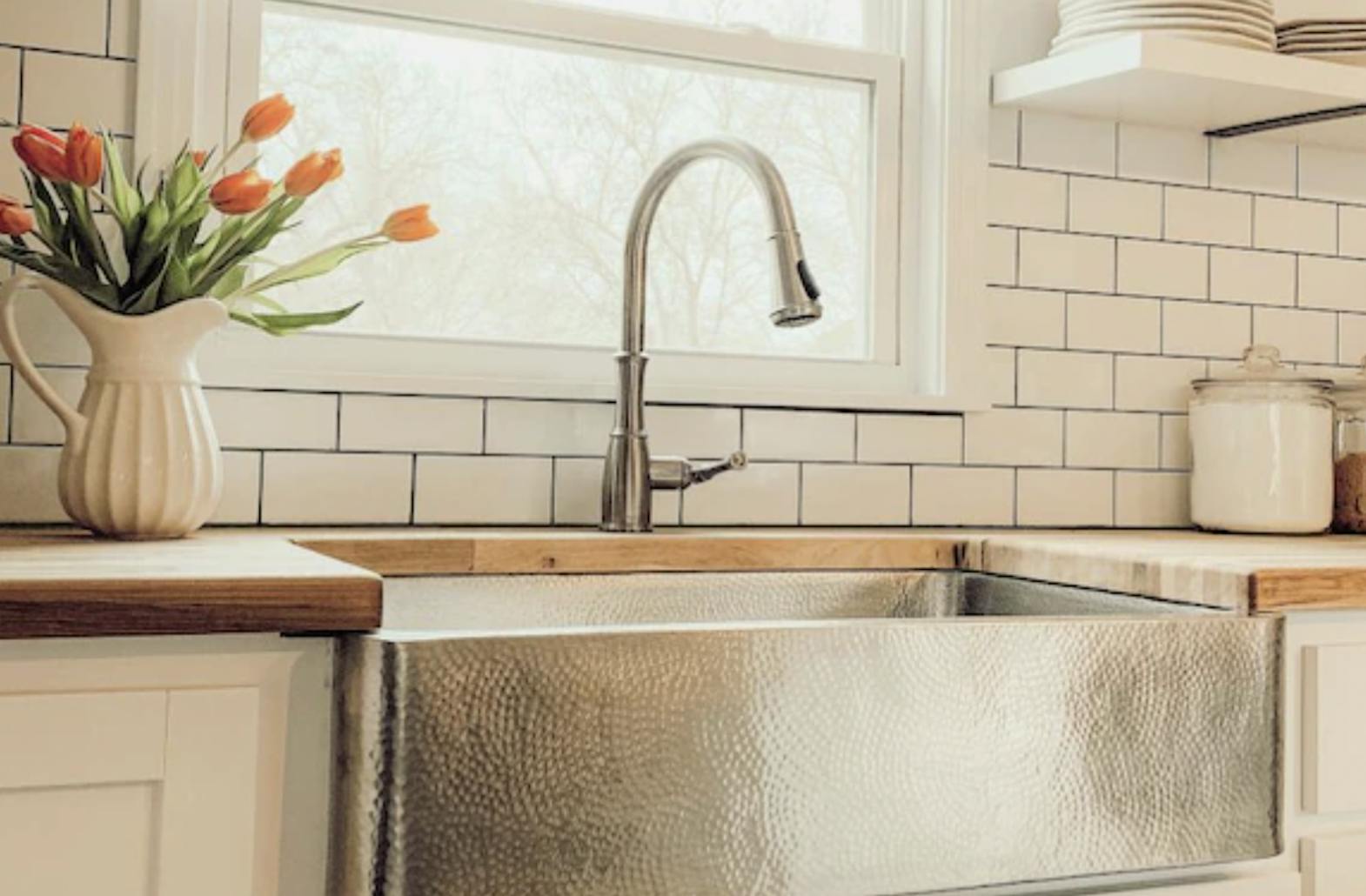 Farmhouse sinks, three ways
Leaning into country warmth like Gisele and Tom? Mixing finishes like Nate Berkus? Opening up kitchen space with "vintage vibes" like Oprah? Whether you are OG or cutting edge, get the ideas flowing with these three farmhouse sink styling trends:
Traditional: Sticklers for early modern European sensibilities settle for nothing less than porcelain or the high shine and stain resistance of fireclay, chosen for its ability to endure rough treatment. But watch out for wine glasses. These harder surfaces are less forgiving than stainless steel.

Modern Minimalism: An all-white, easy-to-clean ceramic sink blends in with white counters and cabinetry. Match the color or material of the faucet with small kitchen details to personalize the aesthetic. For an ultra-modern touch, opt for a stainless-steel sink to blend in with other alloy appliances.

Rustic Romantic: Style your under-sink area with a curtain and reap the rewards of fluid access. Getting to choose curtain patterns offers another chance to add personality to your kitchen décor if mute colors aren't your preference.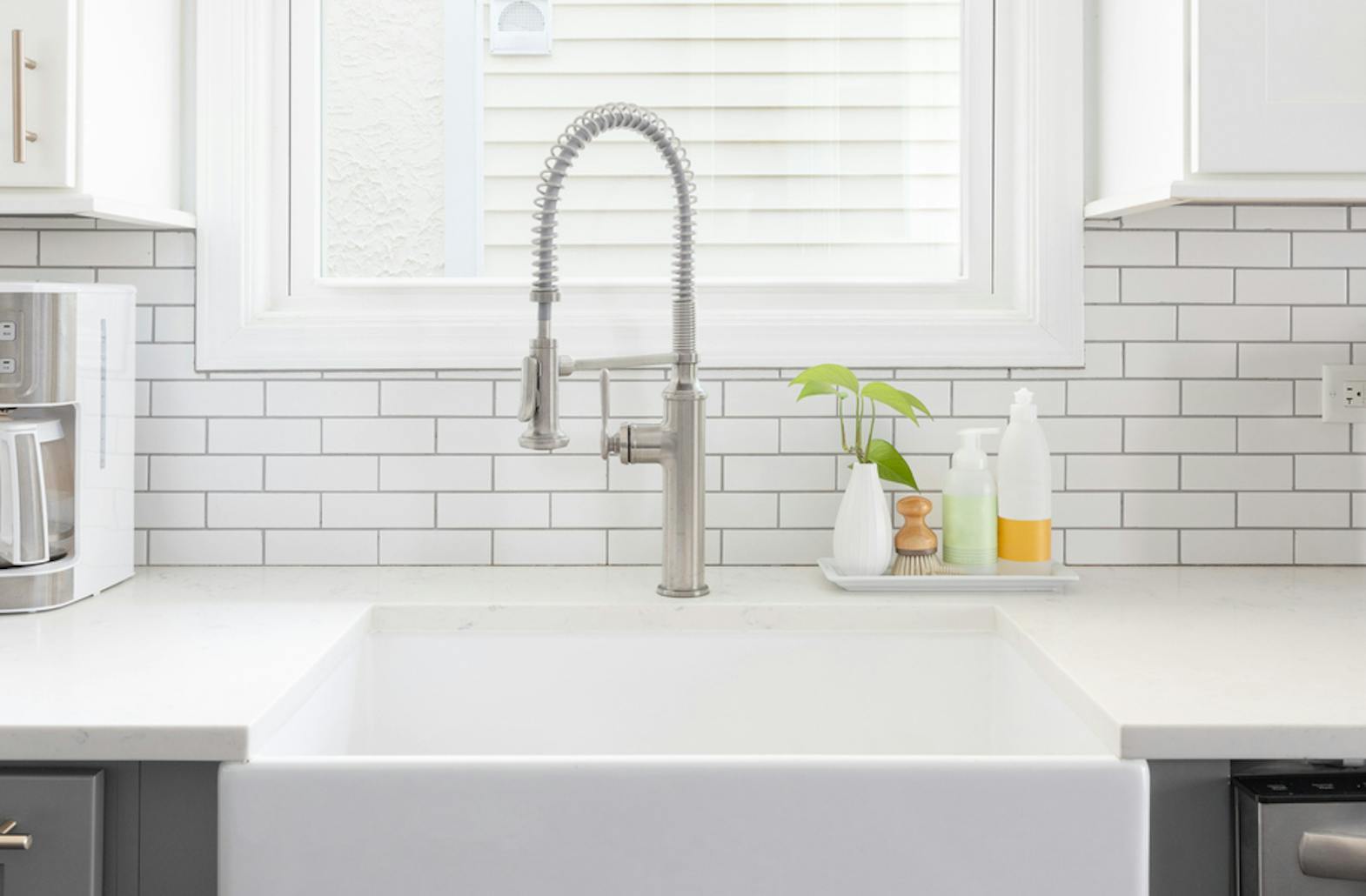 In pop culture
Published May 2021, a humor piece in The New Yorker describes buying a farmhouse sink as a way to get revenge on an ex: "I need to hurt him with expensive homewares the way he savaged me with a SoulCycle instructor named Dyanne," it reads. "A farmhouse sink, a double oven, and a walk-in microwave complete our parade of fixtures and appliances."
The history of farmhouse sinks is a testament to their timelessness and lasting appeal. These sinks have been a staple in homes for centuries, and their popularity shows no signs of slowing down anytime soon. Whether you're renovating your kitchen or building a new home, a farmhouse sink is a great addition that will not only add rustic charm to your space but also provide functionality and durability that will stand the test of time.
With so many styles and materials available, anyone can find the perfect farmhouse sink to suit their needs and style preferences. If you're in the market for a new sink, don't hesitate to consider a farmhouse sink; you won't be disappointed.
Our best stories,
once a month.
By providing your contact information, you consent to Billdr sending you monthly emails. You can unsubscribe at any time.
Author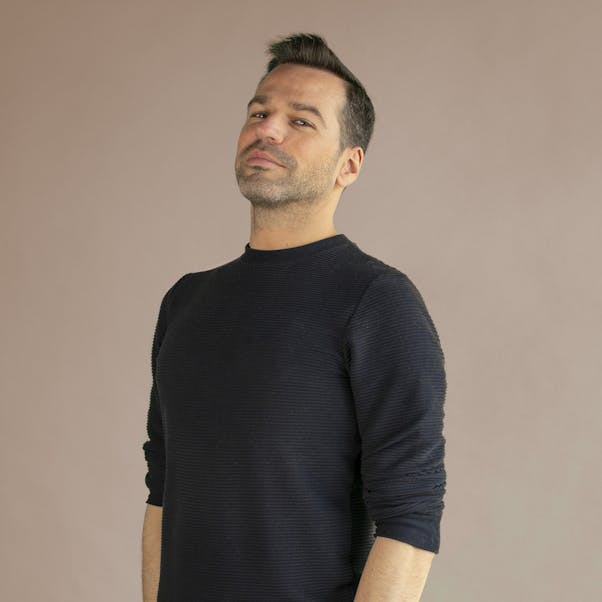 Michael Belcher is a writer, educator, and design obsessive living in Montréal, Québec. His film write-ups are published each year in conjunction with the Image+Nation film festival and he was a finalist in The Fiddlehead's 2021 Fiction Contest. Michael teaches Creative Arts, Media Studies, and English Literature at Collège LaSalle.
About
Billdr Magazine is an online publication packed with design trends and inspiration, expert insights, and personal home renovation stories. From planning a major renovation to navigating construction and maintaining your beautiful home, Billdr Magazine is here for you.