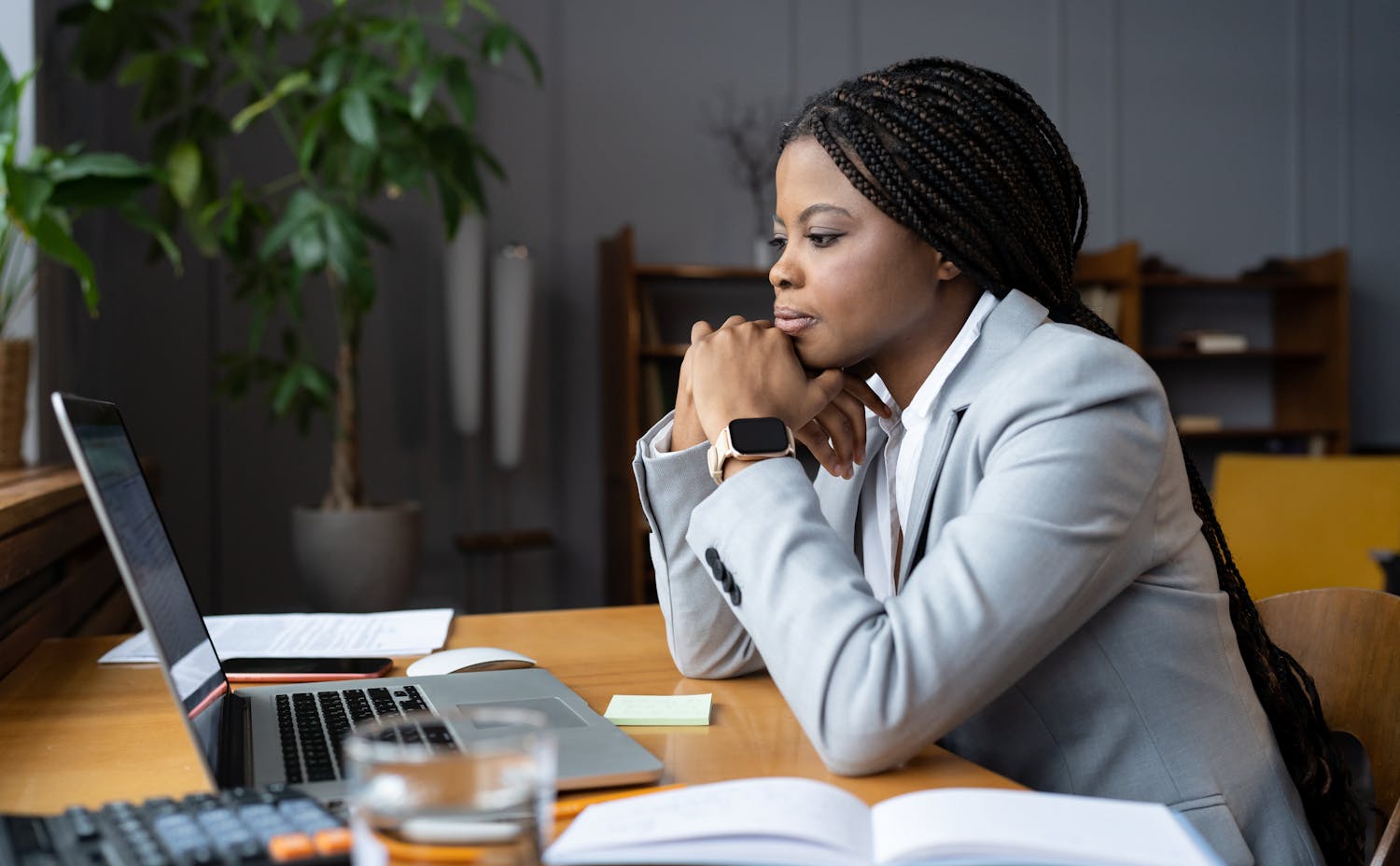 Free renovation estimates are expensive
When preparing for your renovations, it's easy to get caught up in the excitement and be eager to get started as soon as possible. The end results can't come fast enough, and you can't wait to sit down, relax, and enjoy your new space. While taking a shortcut can be alluring, especially those penny-saving ones, oftentimes, you should be wary of things that are labeled free… They never truly are.
Say you decide to get a free estimate — they usually tend to be vague and don't provide many details. That's because general contractors have no established industry standards to follow! Estimates are typically left to the contractor's discretion as to how much information they contain. Contractors want to save time too! And understandably so. They've got a full rotation of projects they need to tend to and will speed up the process where they can.
These types of estimates likely don't include all the work required to achieve the finished product you're picturing. Adding these items at a later date — once construction has already started — can result in significant extra costs. For example, has the contractor determined if structural modifications will be required or planned for the necessary building permits? Have they made it clear what specific finishes and material costs they have included or excluded from their quote? These are all things that could incur additional expenses if they haven't been taken into consideration from the beginning.
⚠️ Getting a free estimate is actually expensive.
For this reason, more homeowners are refusing free renovation quotes. You should too!
Billdr mitigates this risk and avoids costly mid-project change orders with our detailed estimate. Every single task within your renovation is itemized and broken down in detail.
We identify all of the work that a contractor would be responsible for and the costs associated with it. If your estimate ends up being over budget, we will work with you to come up with ways to stay within your budget or to better understand why your scope is larger than anticipated.
You'll know exactly what kind of work needs to be done and how much it costs — solving potential issues before the project starts.
💡 This year alone 💡
Only 12% of Billdr projects had a change order due to unforeseen events (versus an industry average of 59%!)
The median total change order cost is only 8% of the initial contract value (versus an industry average of 12%)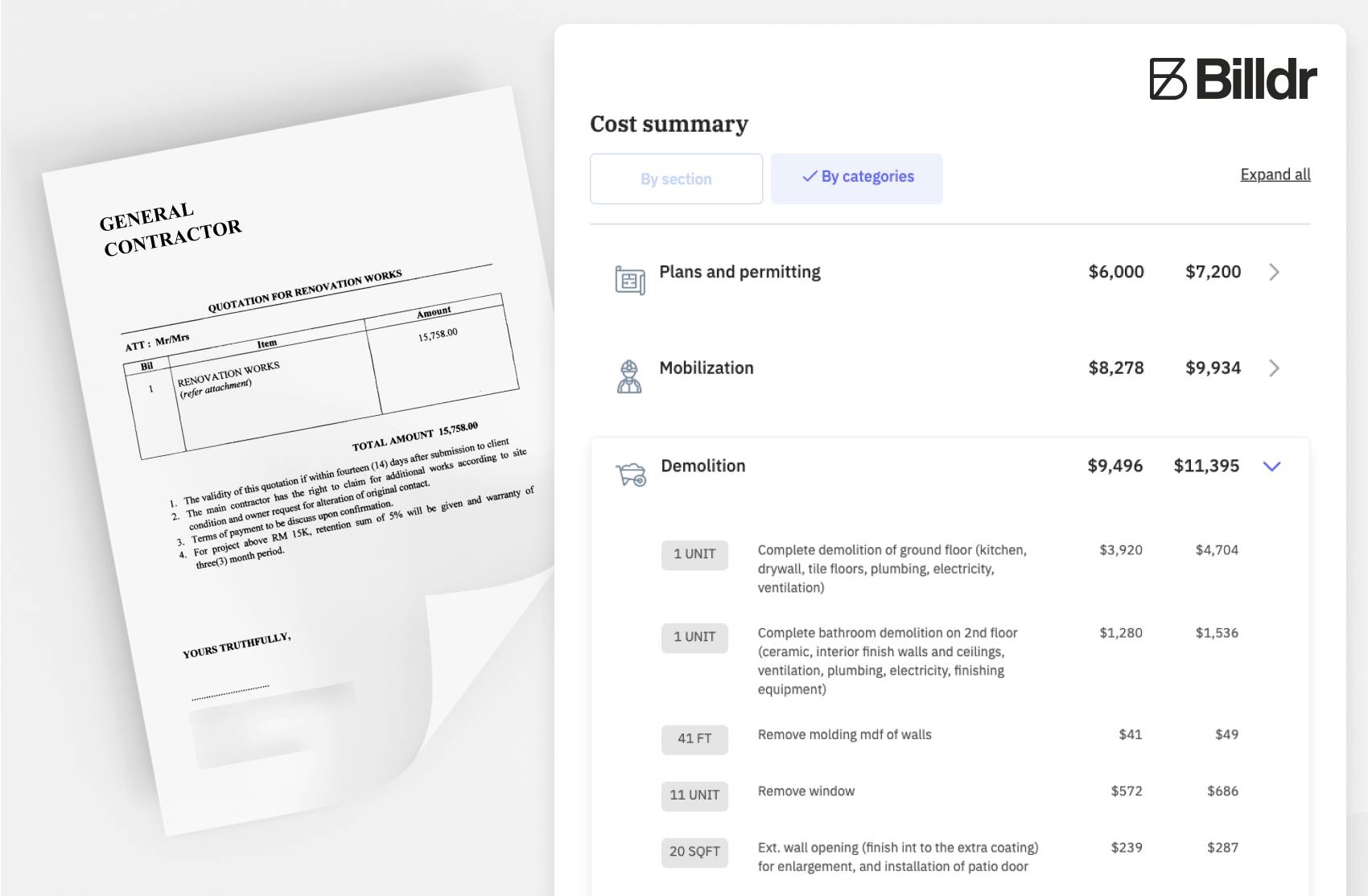 On average, our homeowners save $18,100 on their project. *
Pricing
Project planning starts at $250 + taxes
The One
Single-room renovation
The Select
Multi-room renovations
Minor layout modification
The Major
Full-home remodel
Accessory dwelling unit (ADU)
To further cement why we believe that free estimates should be a thing of the past, here are seven reasons why you should pay for a renovation estimate:
1. Gain more bargaining power during bidding
Know how much your project will cost before meeting with general contractors, so you have more leeway when it comes to negotiating quotes.
2. Know each item's specific cost
An itemized list of tasks allows you to see every single detail that goes into your renovation, so you can work with your contractor to align on materials and costs while exploring options.
3. Approve every step of your project
With a step-by-step breakdown of your renovation, you'll be able to review and confirm all the work requirements for your project before it can move forward.
4. Ensure alignment with your general contractor
A detailed estimate allows you and your general contractor to align on your vision and expectations, getting you both off on the right foot and minimizing conflict.
5. Avoid extra costs during construction
Stay on top of your budget as you'll get a more complete understanding of your project's scope beforehand.
6. Easily make changes to your project
With a clear understanding of the work to be done, you can request modifications and solve potential issues before the project begins. When done before construction starts, these changes don't cost anything!
7. Facilitate financing
Most banks will accept a detailed budget estimate as proof of renovation costs for your property when applying for a loan.
Free estimates may seem like a quick, easy win, but a detailed one will ultimately give you the upper hand. With a complete understanding of what goes into your renovations and at what cost, you'll know exactly what to anticipate, saving you time and money overall.
To learn more, get a full breakdown of the value of a detailed estimate (versus a traditional quote) or see an example of a Billdr estimate.
* This statistic is based on a $100,000 project. Homeowners that use the Billdr services save 18.1% by avoiding unplanned extras.
Our best stories,
once a month.
By providing your contact information, you consent to Billdr sending you monthly emails. You can unsubscribe at any time.
Author

As the Content Marketing Manager at Billdr, Thao spends most of her days learning and writing about renovations. Previously at proptech company RenoRun, she brings along her interest in home renovations, interior design, and real estate to create meaningful content. When not busy with work, you'll probably catch her growing her library of books, munching on baked treats, or dodging balloons.
About
Billdr Magazine is an online publication packed with design trends and inspiration, expert insights, and personal home renovation stories. From planning a major renovation to navigating construction and maintaining your beautiful home, Billdr Magazine is here for you.