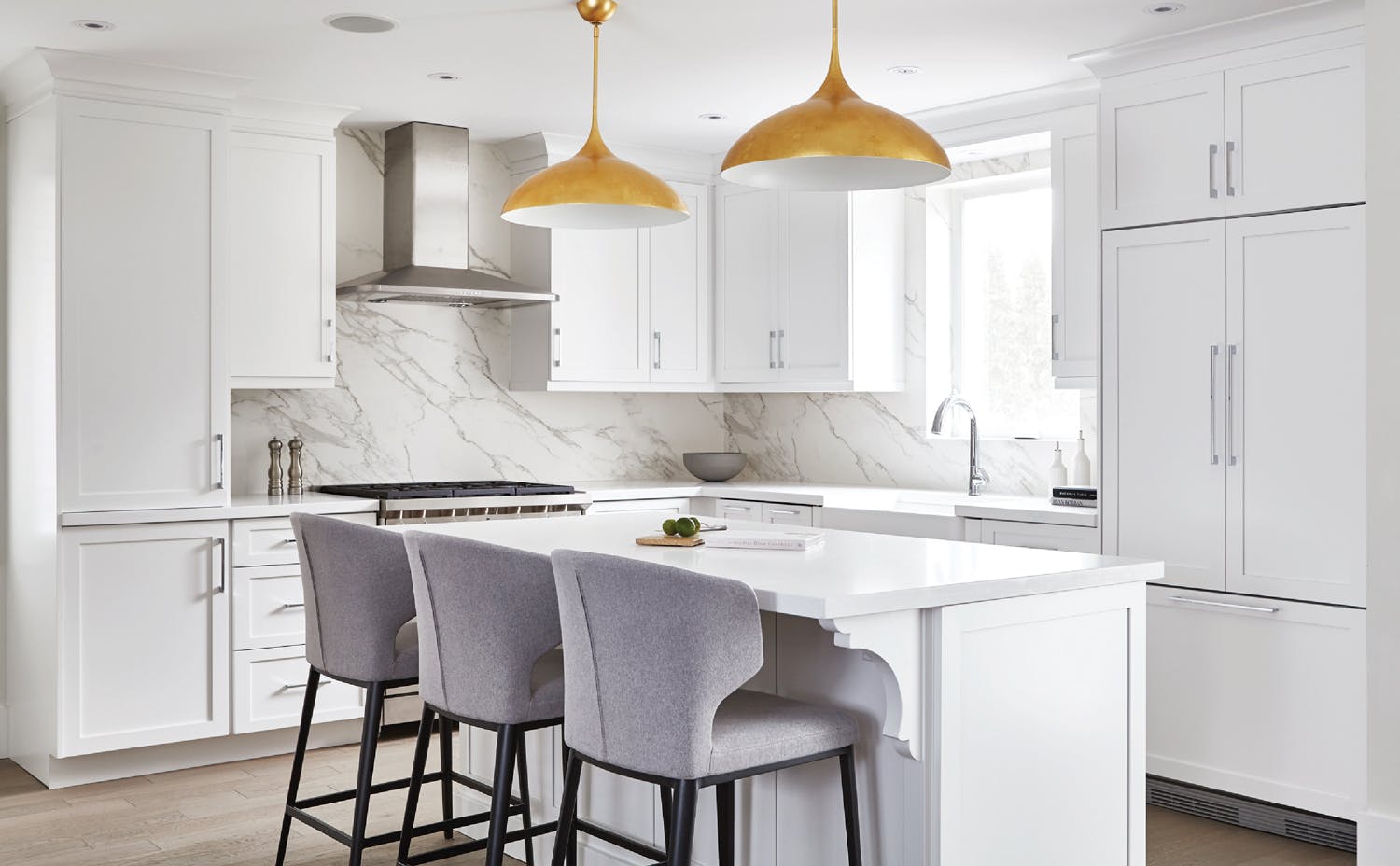 How to pick the perfect kitchen finishes for your style
Complete your traditional, Scandinavian, or farmhouse kitchen with these finishing touches and expert design tips.
When it comes to kitchen renovations, three core styles prevail: the serene simplicity of Scandinavian, the nostalgic grandeur of traditional, and the humble farmhouse look. As a result, there's no shortage of design inspiration online, which is a blessing and a curse since it also means there are endless options to mull over.
From countertops to backsplashes, sometimes it requires an expert's eye to spot the right finishing touches. That's where Isabelle Boba, founder and managing principal of LUX Design, comes in. Drawing from more than a decade of experience at the helm of the multi-city design firm, Boba offers tips on the finishes that will complete your kitchen.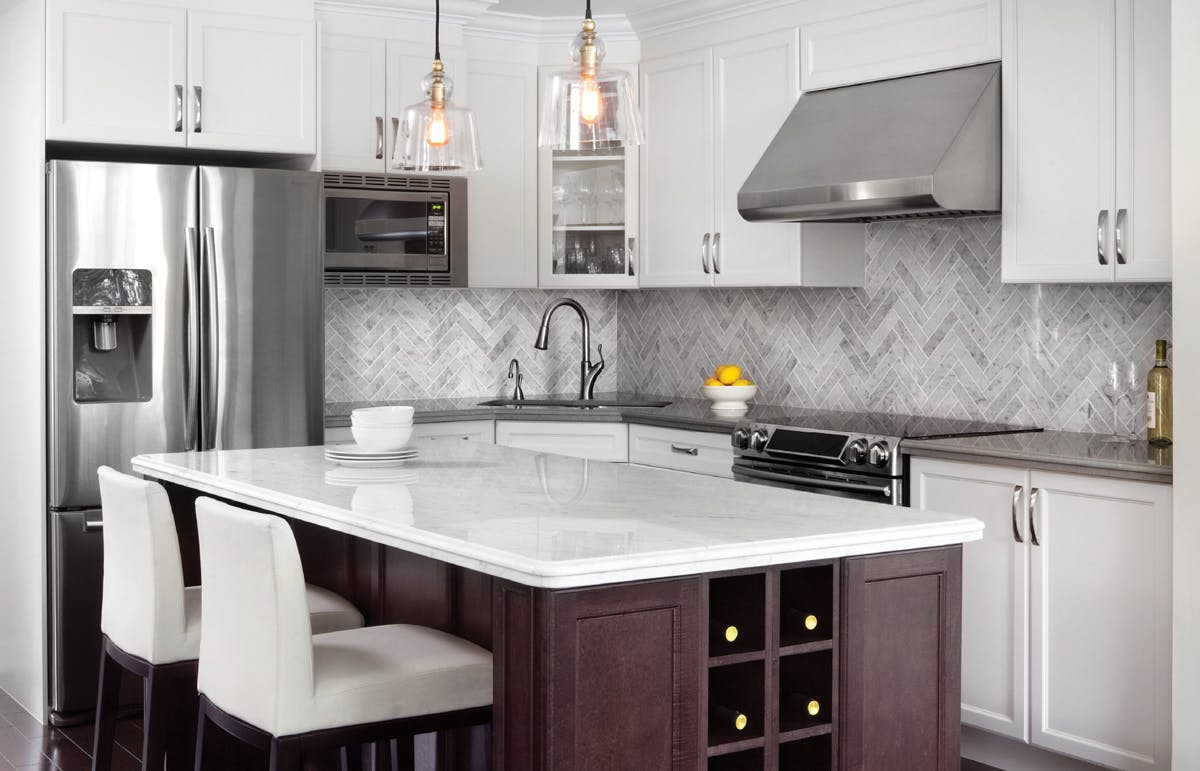 Traditional kitchen finishes
This enduring style is unmistakable to North Americans, who likely grew up with a traditional kitchen at home. Its signature grandeur comes across through oversized appliances, cream colors, and ornately carved wooden cabinetry.
"For this style, what we often see is the large, hooded ornamental stove, and oversized kitchen island," says Boba. "Trad kitchens are all about the celebration of family and gatherings, so those two things are the staples."
With trad designs, there's a need to strike a balance between nostalgia and modernity. For a contemporary execution of the style, opt for finishes that offer inspired takes on originals as opposed to direct replicas.
"Take crown molding, for example, which was a popular addition to cabinetry or entryways in traditional-style homes," offers Boba. "Today we've paired back on that, so it's a bit more modern and minimal, but it's still all the rage."
Another update to contemporary, traditional kitchens comes through the materials used for cabinetry and flooring. "Many years ago, cabinets were solid wood, hand-crafted and beautiful, but with the rising cost of wood and labor, we're noticing that manufactured materials, such as medium-density fiberboard, are a popular choice."
As the piece-de-resistance in any kitchen, the stove is where Boba and her team like to have a little fun. "There's almost a renaissance now, with the rise of new models of French stoves, and more colors coming into play," she says. "I'm loving a large hood made of metal, like brass for example. It adds a bit of whimsy on the serious trad, which is fun."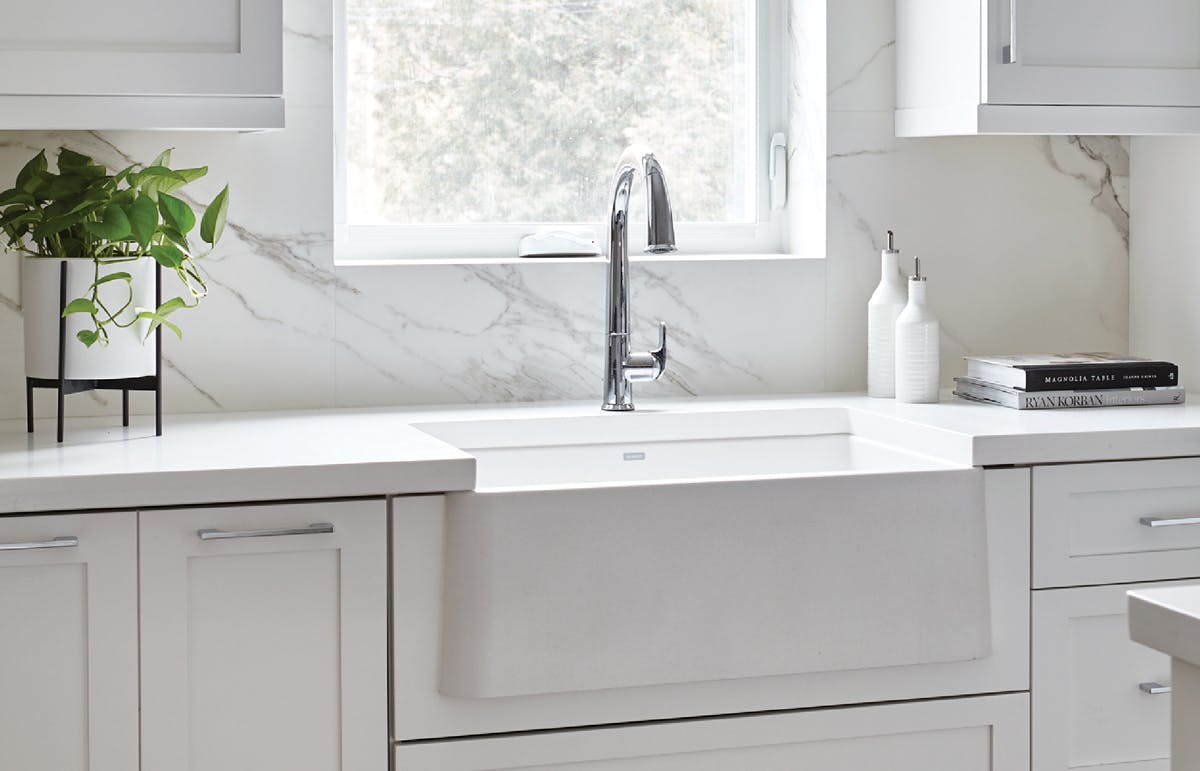 Farmhouse kitchen finishes
Farmhouse design draws upon idyllic pastoral scenes, so naturally, it involves plenty of wood.
But not everyone can work vaulted beam ceilings into their kitchen redesign. So bring wood into your countertops and shelves instead, suggests Boba. "Open wood shelving is a staple in farmhouse kitchens," she says. "The feel should be easy and relaxed."
Add a little rustic kitsch to the kitchen with vintage colors. "Keep and paint old shiplap, and don't be afraid to mix colors. Seafoam green on an island is in right now, or powder blue shelves," says Boba.
To modernize the farmhouse look, Boba suggests metallic finishes, such as galvanized bar stools. Not to be forgotten is the most tell-tale feature of a farmhouse kitchen: a big, deep sink. "They're forever famous, often white, and create a focal point for the room," she says.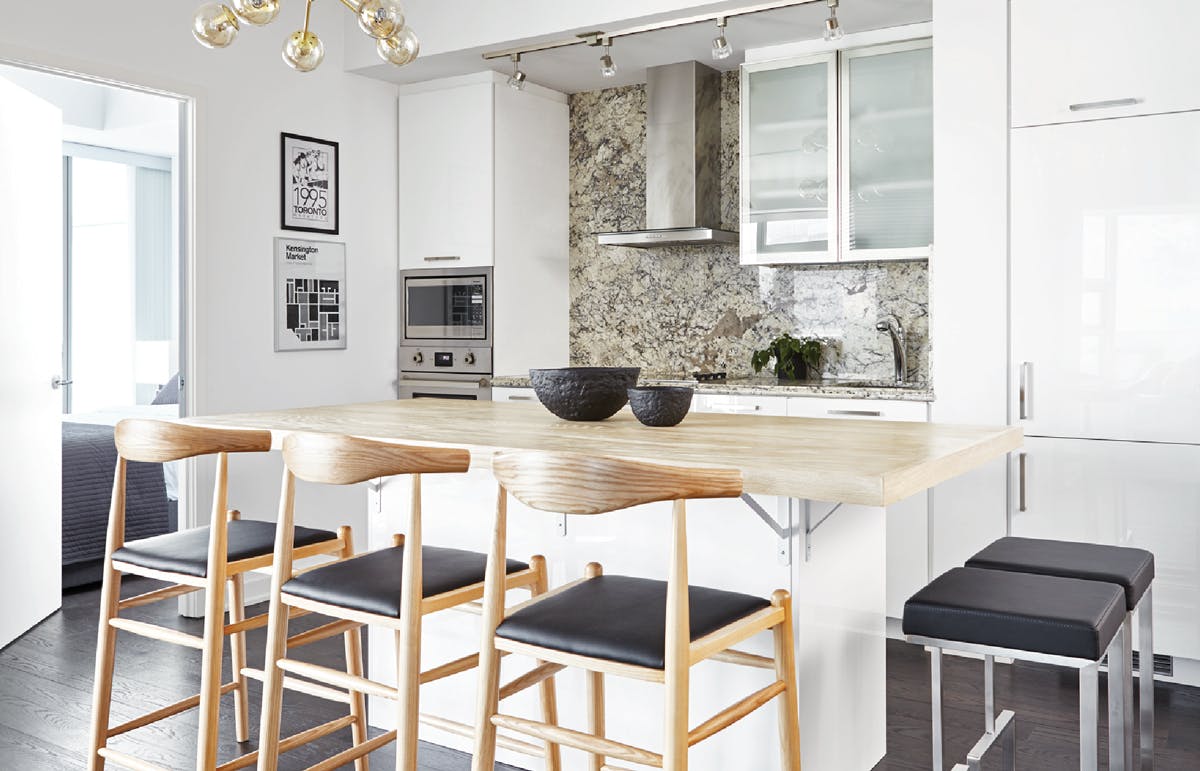 Scandinavian kitchen finishes
The minimal and clean aesthetic of Scandi design brings a calming effect into hectic kitchen spaces.
"Scandinavian homes have lots of white and wood," says Boba. "You can also go classic by working black accents into the room." Although the Scandi color palette is somewhat muted, there are strategies to ensure the kitchen still feels lively.
"People often mistake Scandi with being cold, and it's not. It's actually very warm and inviting," explains Boba. The secret to adding vibrance, she says, is to play with texture. Boba suggests leaving one or two shelves open to display a curated arrangement of ceramics.
"In Denmark, artisanal ceramics are popular, so you might consider paying homage to that by investing in something like beautiful, handmade coffee mugs or a vase," she says. One-of-a-kind pieces like these inject personality that pops against a muted backdrop. With thoughtful accessorizing, you can create a space that's on-trend yet still unique.
Finishing thoughts
When it comes to kitchen finishes, think about your theme in broad strokes. "Don't focus too much on incorporating a particular item," says Boba. "Instead, focus on the mood, the feeling, the colors. Find themes in the items you're gravitating towards and expand from there."
Whether you're into minimal Scandi, whimsical farmhouse, or opulent trad, finishes offer the perfect chance to inject your personal style into tried-and-true trends.
From finishing touches to a full remodel, get cooking with Billdr's kitchen renovation guide.
Our best stories,
once a month.
By providing your contact information, you consent to Billdr sending you monthly emails. You can unsubscribe at any time.
Author

Nicole is a writer, podcast producer, and journalist based in Toronto, Canada. Follow Nicole on Twitter.
About
Billdr Magazine is an online publication packed with design trends and inspiration, expert insights, and personal home renovation stories. From planning a major renovation to navigating construction and maintaining your beautiful home, Billdr Magazine is here for you.