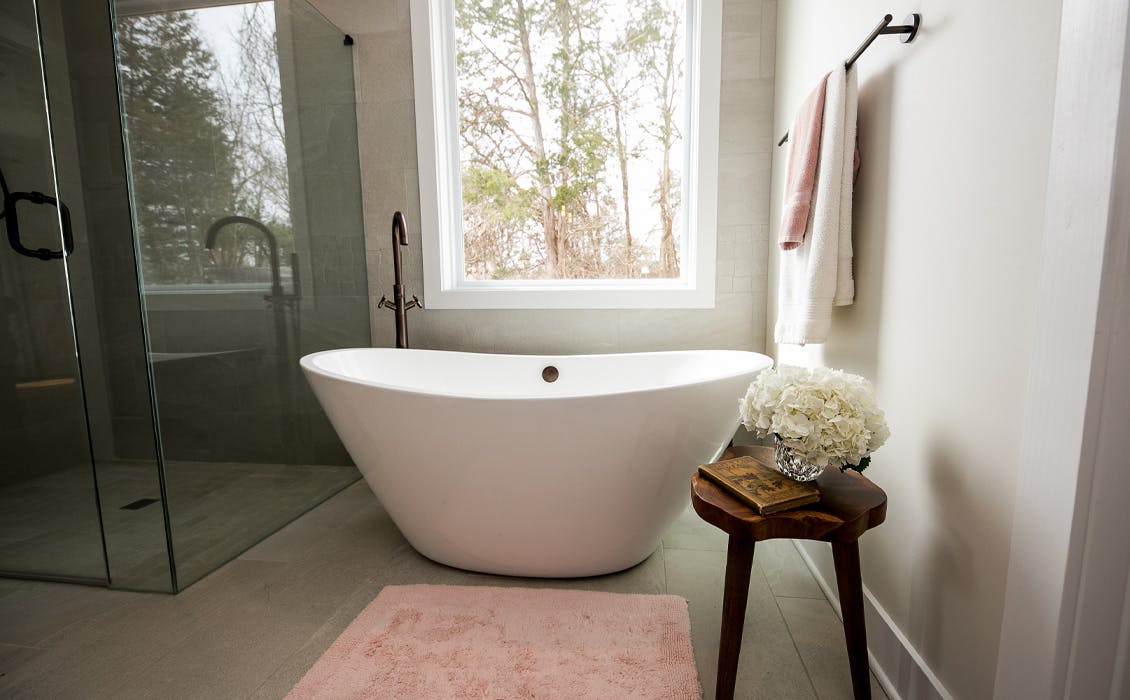 How to remodel the perfect spa bathroom
Ready to give your bathroom the spa treatment, but not sure where to start? Home experts Érico Sciortino, a Billdr-certified contractor, and Frank Coluccino, owner of Frankly Designed, unpack where to begin with a spa bathroom remodel and how to up its bliss factor.
Where do you start with a spa bathroom remodel?
Érico Sciortino (ES): One of the most important elements of a proper functioning spa bathroom is an independent hot water tank, which helps ensure that you'll have access to the hot water you need when you're ready to relax, especially if you have a busy household like I do.
The other important elements, especially if you're going to have steam showers or saunas, are proper ventilation and building materials such as liquid membranes, gyprock that's made for humidity as well as membrane on the floor, in case of water spills. A lot of people who had saunas installed in the '80s and '90s had me take them out because the humidity can cause a lot of problems if the area isn't properly ventilated.
What are the essential elements of an at-home spa?
ES: For a good at-home spa, it has to look zen — not too busy, not too many accessories — because you need space to make it feel like a spa. But everybody is different and it all depends on the client. Most people who want a zen, spa-like bathroom are going to use more wood and white. They're going to want a big shower with somewhere to sit, like a bench, to relax. A big bathtub is nice. A double vanity. Heated floors.
Frank Coluccino (FC): A spa environment has to start with a solid foundation of natural elements such as wood, stone, and water in combination with organic décor finishing touches that can include live plants and flowers, soft music playing in the background, scented candles and soaps, and trays and baskets filled with opulent items meant to pamper.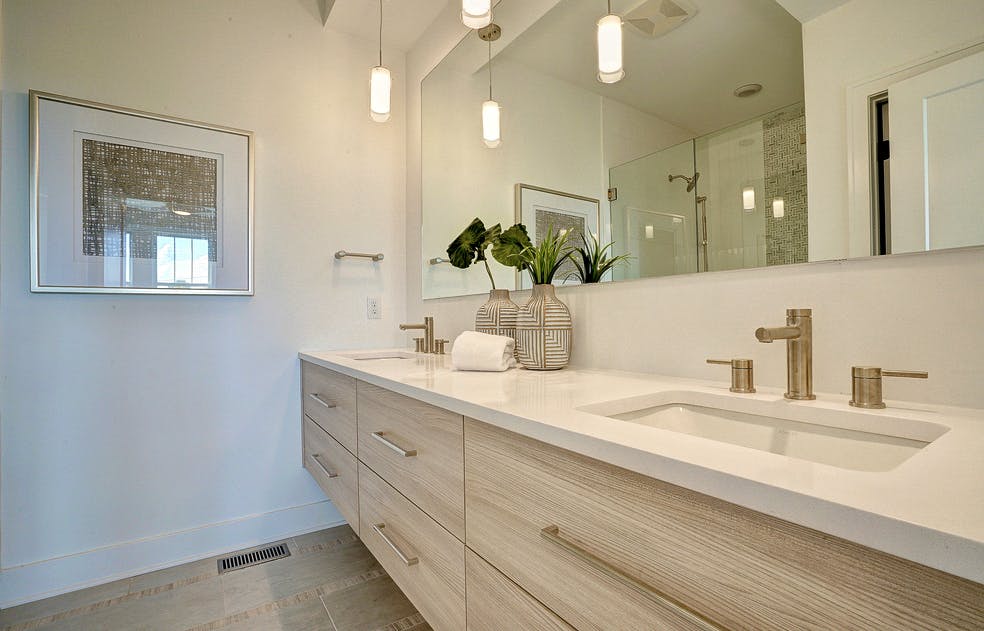 Are there specific types of sinks, showerheads and tubs that are more spa-like than others? What about vanities?
ES: What I most recommend is a double shower head and a sitting area inside the bathroom.
FC: A favourite among my clients, vessel sinks are great for spacious countertops. But if you don't have a large vanity, consider opting for an under-mount sink that provides more counter space for trays and baskets filled with luxury items. Vanities not only have to look beautiful but also function and provide ample storage. Use natural materials, such as wood and painted wood, and look for quality construction, like dovetail and soft-close drawers and cabinets. Trust me you'll welcome the silence in your spa retreat!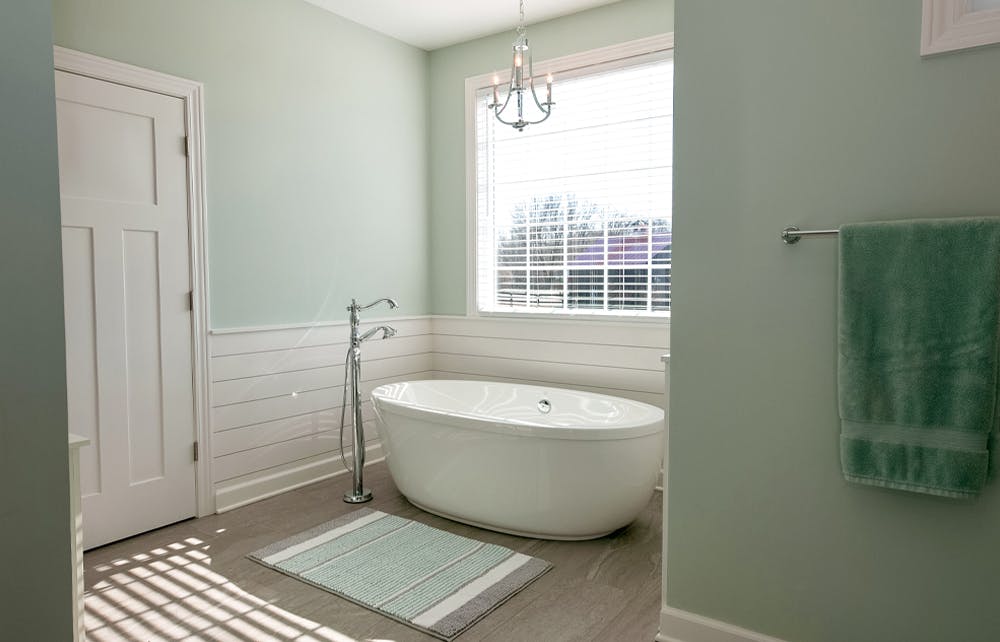 How important is spa bathroom lighting?
FC: A spa bathroom should have ample recessed ceiling lights to illuminate the entire room, including the shower and tub. A pendant above a stand-alone tub adds elegance, luxury, and flair. Vanity lights are extremely important and I mostly opt for wall sconces on either side of the mirror, at the appropriate height. You want the sconces to illuminate both sides of your face and prevent the shadows that are caused by overhead lighting. I also like to have some kind of diffuser on both the sconces and pendants; they cast a soft light and won't create a glare from an exposed bulb.
What's the ideal size and location for an at-home spa?
ES: The best location is in your master bedroom so once you're done and in your bathrobe, you can relax on a chaise longue with a book. It's an ensemble.
FC: Spa bathrooms don't have to be large rooms. Luxury can be achieved in a small principal bathroom. All the design elements should work together to create a calming space that delights the senses while rejuvenating and soothing the mind and body.
Integrating a built-in or store-bought bench can elevate a shower, and also help provide relaxation. Remember to use the vertical space by adding built-in niches or shelves to organize and store your shower items. Finally, there are numerous design elements on the market to transform your simple shower into the perfect steam shower and wet room.
Our best stories,
once a month.
By providing your contact information, you consent to Billdr sending you monthly emails. You can unsubscribe at any time.
Author
A freelance writer based in Montreal who writes about design, architecture and real estate, Ursula Leonowicz is a regular contributor to the Montreal Gazette's New Homes & Condos section. She also has her own blog, citycountry bumpkin. Growing up, she painted her bedroom a different colour every year; much to the horror of her parents.
About
Billdr Magazine is an online publication packed with design trends and inspiration, expert insights, and personal home renovation stories. From planning a major renovation to navigating construction and maintaining your beautiful home, Billdr Magazine is here for you.