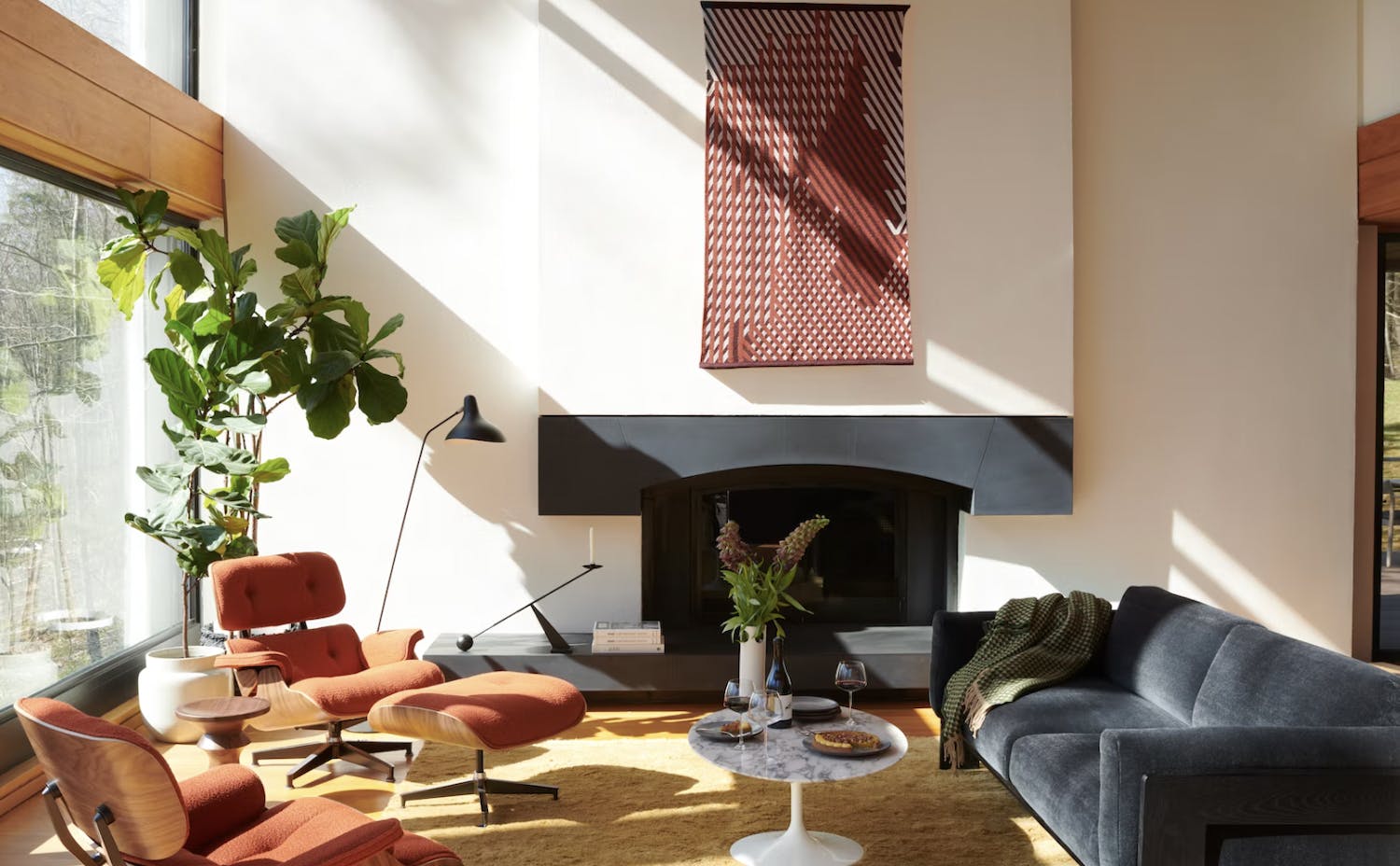 Mid-century modern style, deconstructed
Have you ever eyed that Eames Lounge Chair for your home office? Picked out a table with hairpin legs? Or coveted a mini mushroom lamp? Then you have admired the mid-century modern style.
Once a hallmark of the future, mid-century is now a nostalgic nod to an era where function collided with style. Pared-back and less glam than its predecessor Art Deco, mid-century design makes its mark with shapely minimalism. But, without sacrificing edgier possibilities. Across its many permutations, certain characteristics remain consistent, including an overall lack of embellishment, emphasis on clean lines, geometric and organic shapes, and a playful approach to color.
First gaining prominence in the post-war period and bouncing back in the "cool" '80s, the style still epitomizes design sense in tiny millennial high-rise condos and on the Pinterest boards of suburban homemakers looking for uncluttered warmth. If that seems like a contradiction, it's because the style's ability to criss-cross industrial and natural boundaries at an accessible price point offers broad generational appeal.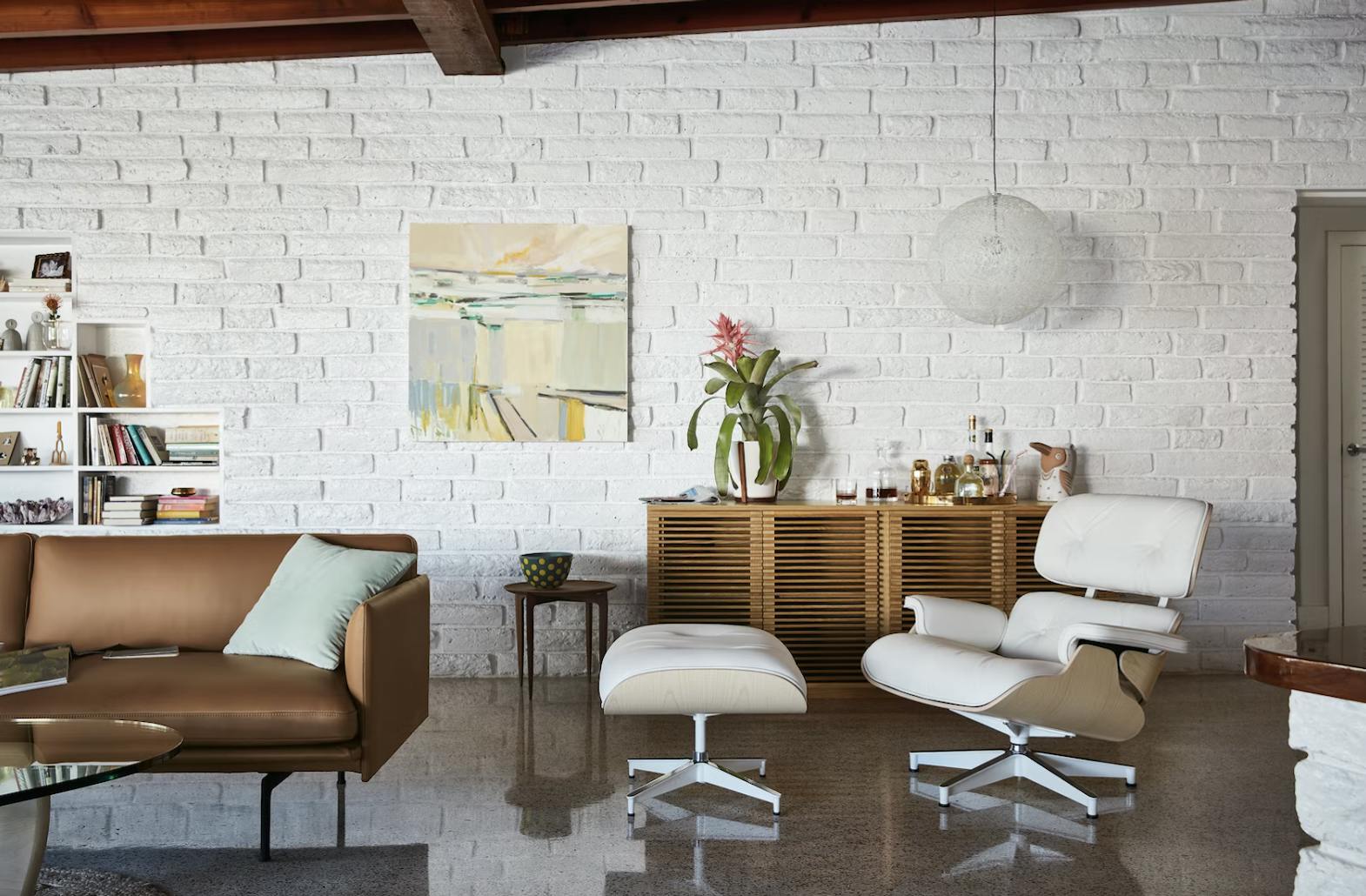 Brief history
Pre-20th century: Before the Industrial Revolution ushers in mass production and the global consumer economy, most furniture acquisition is highly localized and often inherited.
1920s-30s: Bauhaus and International Style movements emerge in Europe after WWI, introducing "form follows function" into the design lexicon and jump-starting the careers of mid-century design superstars, like Ludwig Mies van der Rohe, creator of the cantilevered Barcelona chair.
1939: Bauhaus and Danish Modernism make a (beautifully executed) splash at the World's Fair in New York City, setting the stage for mid-century modern's rise to the fore.
1940: Charles Eames and Eero Saarinen win the "Organic Design in Home Furnishings" competition at The Museum of Modern Art.
Post-WWII: The post-war housing boom spurs the construction of small homes and apartments, along with a flood of European immigrants who have ideas on how to furnish them. With supplies scarce, designers turn to fiberglass, plastic, and plywood to sculpt organic shapes that can be affordably mass-produced, including the then-revolutionary and now-ubiquitous molded plastic chair.
1947-1962: With tensions mounting during the Cold War, the U.S. State Department uses mid-century modern design exhibitions to extol the virtues of American consumerism abroad.
1973: As the oil crisis heats up, production of mid-century furniture cools. Barrel prices quadruple, and the Organization of the Petroleum Exporting Countries prohibits exports to the United States.
1984: Cara Greenberg coins the term "mid-century modern" with the publication of Mid-Century Modern: Furniture of the 1950s (though Merriam-Webster traces the first known use to 1953).
1993: Iconic mid-century modern manufacturer Knoll begins catering to the retail market after the office furniture market takes a hit. The rise in home offices convinces other brands, like Herman Miller, to follow suit.
Sept. 6, 1998: The New York Times identifies "a tribe of newly affluent global nomads" who are acquiring mid-century modernism pieces "to mark their transition to affluence." Their appetite is whetted by the launch of major design mags like Wallpaper* (1996) and Dwell (2000).
June 2008: The United States Postal Service dedicates a postage stamp to Charles and Ray Eames, whose Eames Molded Plywood Chair Time magazine named "Best Design of the 20th Century."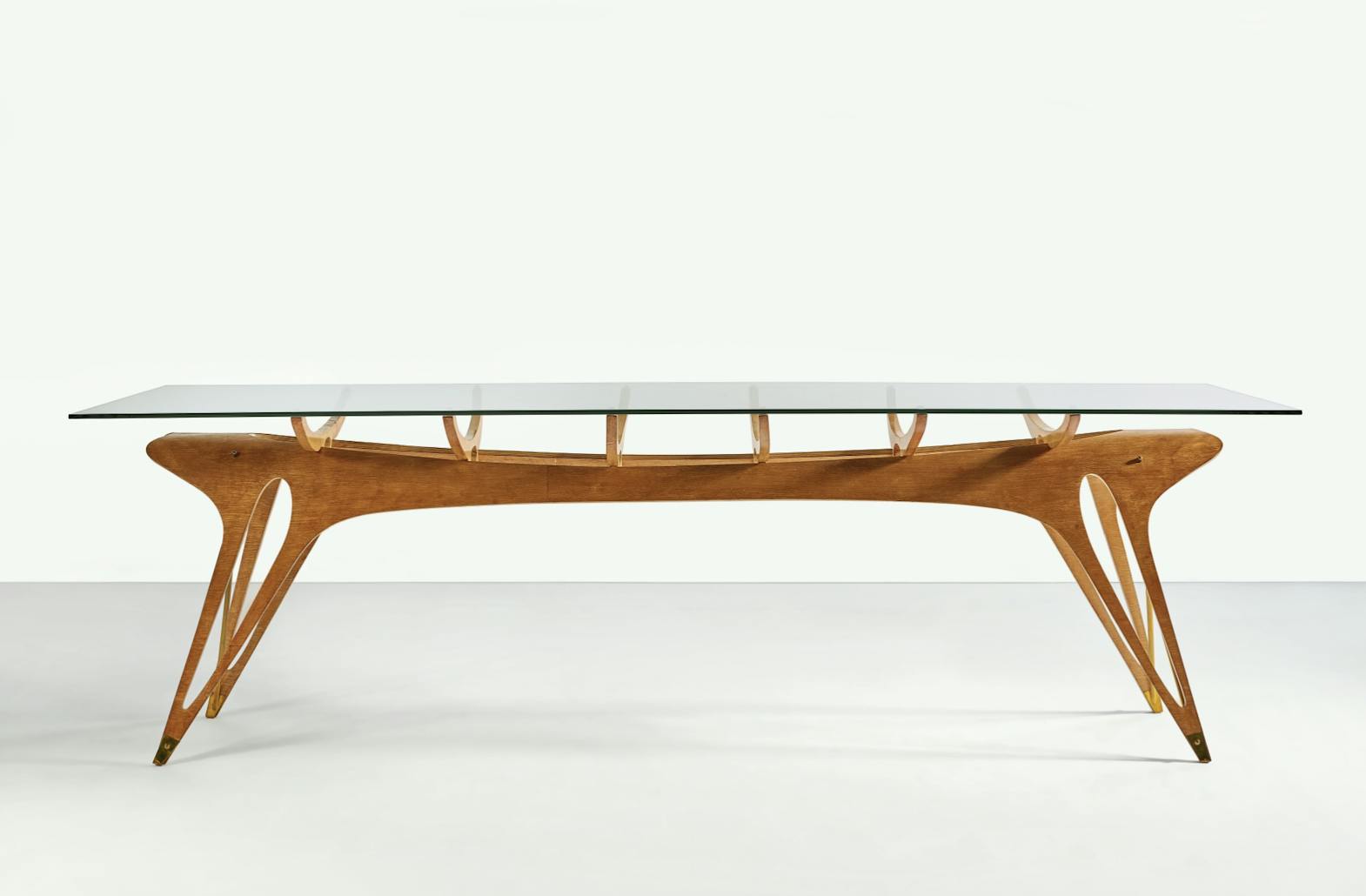 By the numbers
4: The number of buildings in Ludwig Mies van der Rohe's Westmount Square complex in Montreal, with two residential towers and two commercial that stand on pegs like the legs of a mid-century modern couch.
630 ft: Height of the Gateway Arch in St. Louis, Missouri, United States, an icon of mid-century modern construction designed by Eero Saarinen.
$66,000: The selling price of a George Nelson Marshmallow sofa in December 1999 after collector demand for original mid-century designs drove up prices.
73,065: The number of "mid-century modern" listings that can be found on Wayfair.ca.
$6.2 million: The record-setting auction price of Carlo Mollino's 1949 whalebone dining table sold at a Sotheby's in 2020.
Mid-century modern, three ways
Can't decide if Silicon Valley sleek or wood paneling wonder is more your cup of tea? Perhaps you need to adopt a gesamtkunstwerk state of mind (once you figure out what that means).
Industrial: Your high-tech appliances might need company. Embrace the style's mathematical side with geometric elements in repeat patterns. Try a diamond chair next to the Barcelona couch or a Mies van der Rohe-inspired chrome X-base glass coffee table. Remove curtains and other light-blocking materials to let your interiors—and industrial materials like brass table caps—shine. If you're looking to soften things, pale pinks and baby blues can join the cool whites and grays and remain within the style's palette.
Natural: The primal ease of Scandinavian design remains a central influence for mid-century modernism. Picture the gentle poise of an Alvar Aalto birch armchair in an open floor plan dotted with greenery on elevated wooden stands. If you're anxious about the popularity of the stunning Noguchi Table, search instead for a wood-and-glass biomorphic work from Vladimir Kagan or Adrian Pearsall. Floating gracefully overhead, a Nelson Bubble Lamp maintains the airiness. For accent walls, keep things autumnal with warm reds and apple greens or freshen things up with a pop of teal.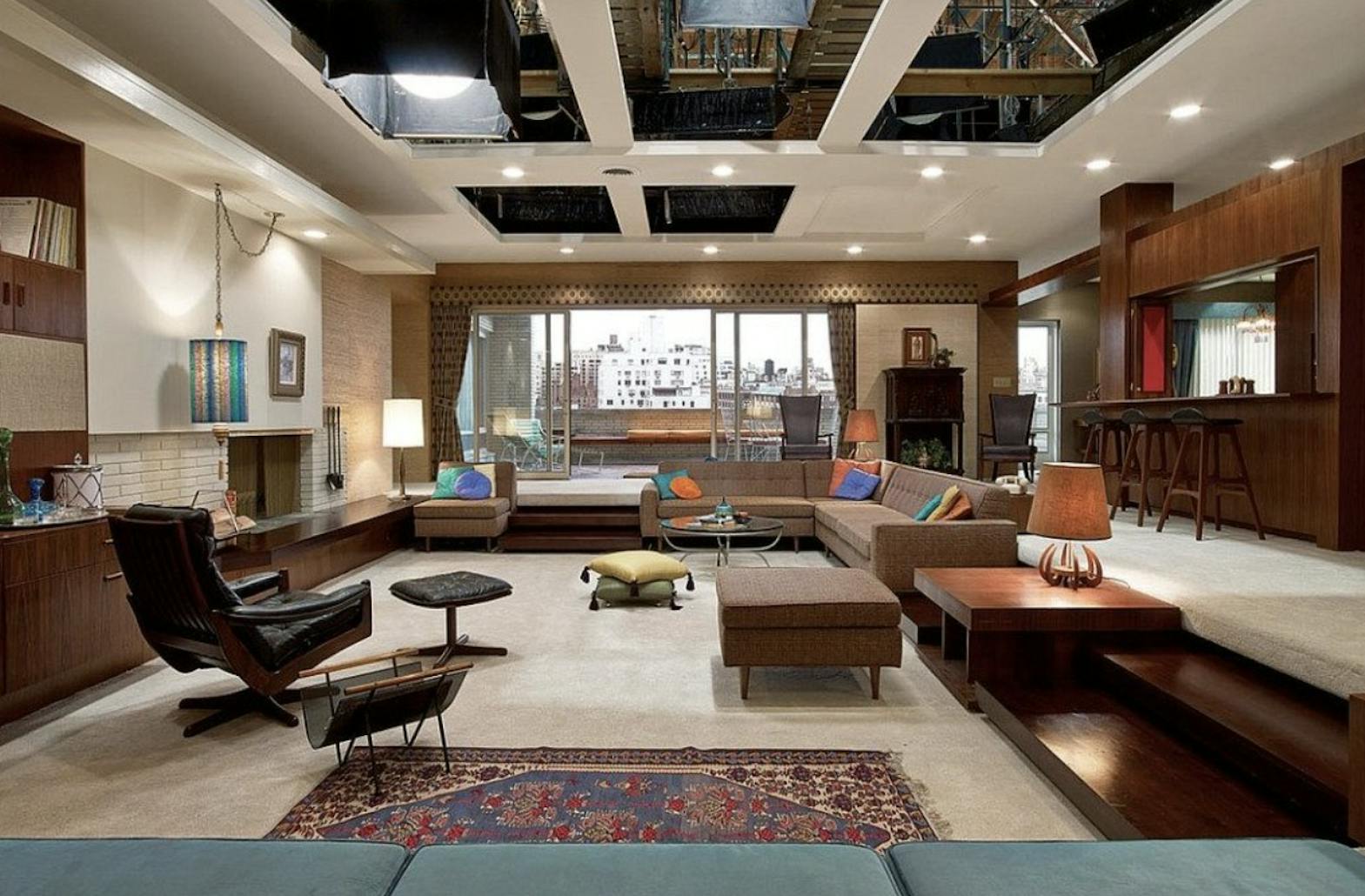 In pop culture
The Jetsons: A product of the Space Age craze, this short-lived but impactful animated sitcom aired from September 23, 1962, to March 17, 1963. Much of its futuristic design was influenced by the glass and plastic constructions of mid-century modern architecture. New episodes of the series were made in the '80s as fever for mid-century design reignited.
Star Trek:: In the original '60s series, Eero Saarinen's cast aluminum and fiberglass tulip chair could be spotted all over the Starship Enterprise. The tulip-style migrated to the set design of 2001: A Space Odyssey, joining other perennials like Arne Jacobsen's Egg Chair.
The Incredibles: Both the original and sequel of this animated Pixar franchise embrace their "unique mid-century modern aesthetic." As director Brad Bird puts it, "I saw the world of The Incredibles as looking like what we thought the future would turn out like in the 1960s." Pixar even posted visual evidence on Twitter.
Mad Men: Set designers for AMC's period-accurate series (2007-2015) collaborated with the likes of Herman Miller to bring the '60s roaring back to life spurring countless think pieces about the enduring appeal of the aesthetic.
The mid-century modern style has been here for quite some time but will likely continue to stick around due to its elegance, sleekness, and timeless appeal. So the next time you're picking out furniture pieces for your new home, take a moment to consider some sculptural lines and bold colors.
Our best stories,
once a month.
By providing your contact information, you consent to Billdr sending you monthly emails. You can unsubscribe at any time.
Author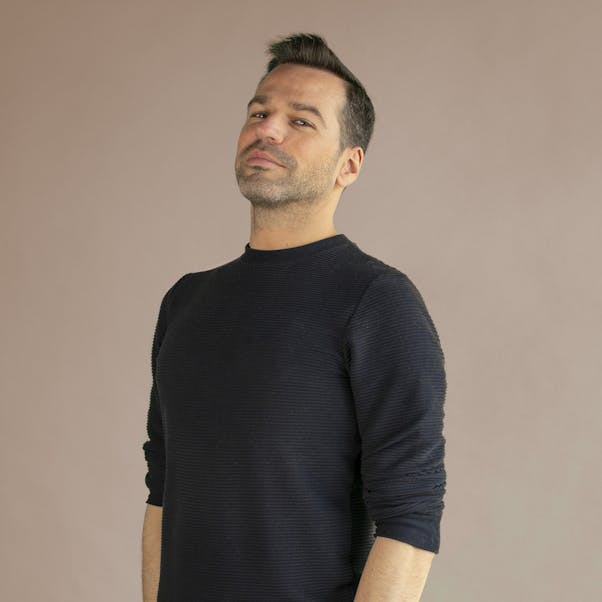 Michael Belcher is a writer, educator, and design obsessive living in Montréal, Québec. His film write-ups are published each year in conjunction with the Image+Nation film festival and he was a finalist in The Fiddlehead's 2021 Fiction Contest. Michael teaches Creative Arts, Media Studies, and English Literature at Collège LaSalle.
About
Billdr Magazine is an online publication packed with design trends and inspiration, expert insights, and personal home renovation stories. From planning a major renovation to navigating construction and maintaining your beautiful home, Billdr Magazine is here for you.