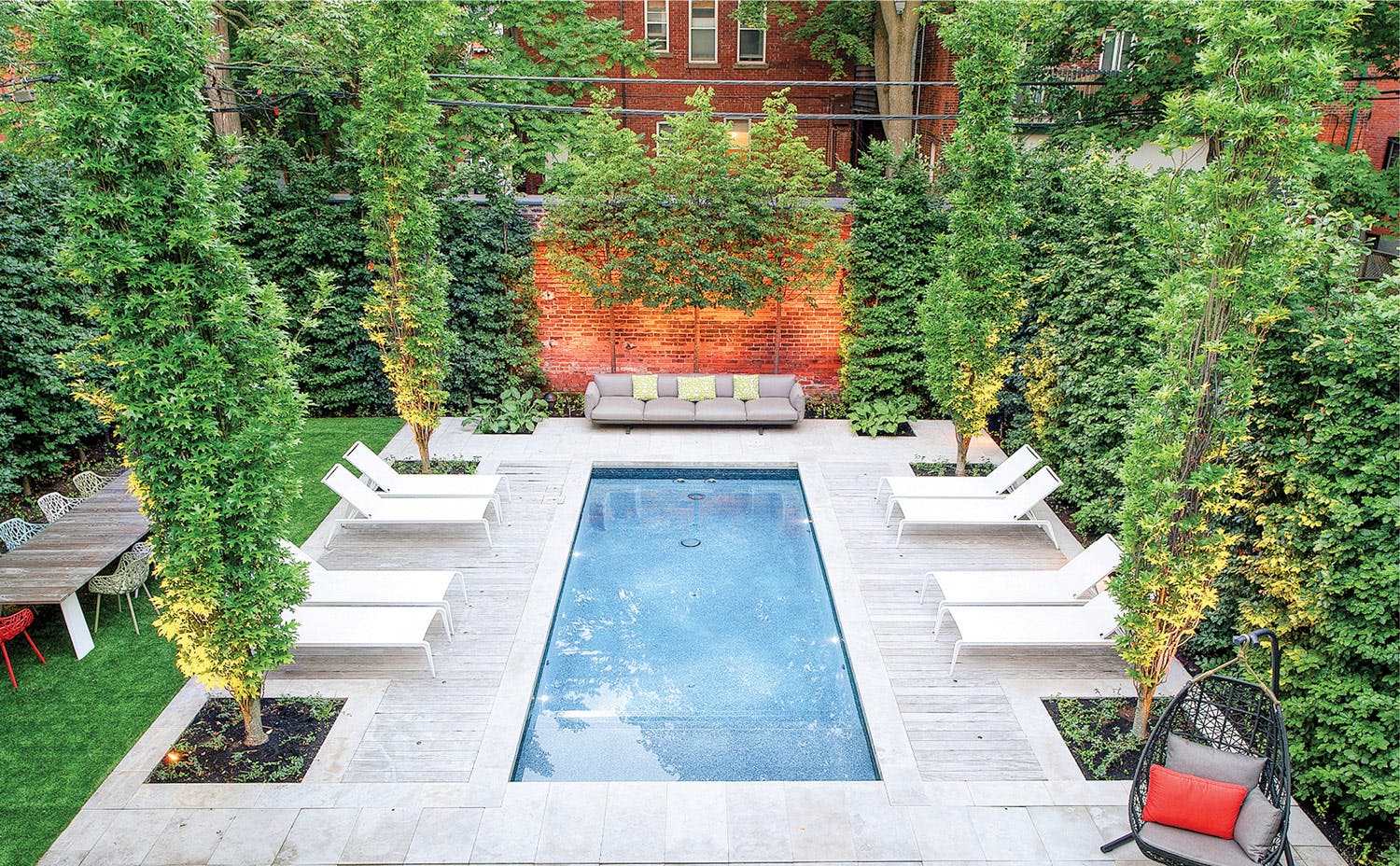 Swimming pool design tips to revive your backyard
Almost every Canadian has a childhood memory of standing on their tippy toes on the vinyl slope of a pool floor, courageously wading into the deep end. Backyard swimming pools have come a long way since they first became popular in the 1950s.
Back then, pools weren't necessarily the most stylish addition to a family home. Now, thanks to an increased demand for backyard retreats and at-home relaxation, the days of clunky above-ground pools may finally be behind us.
The best plan for a pool is one that encompasses the entire backyard. To ensure your investment is something your family will love for years to come, treat your pool installation as a backyard transformation. Caley Gibbs from Toronto's Gib-San Pools offers tips on what to consider before you take the plunge.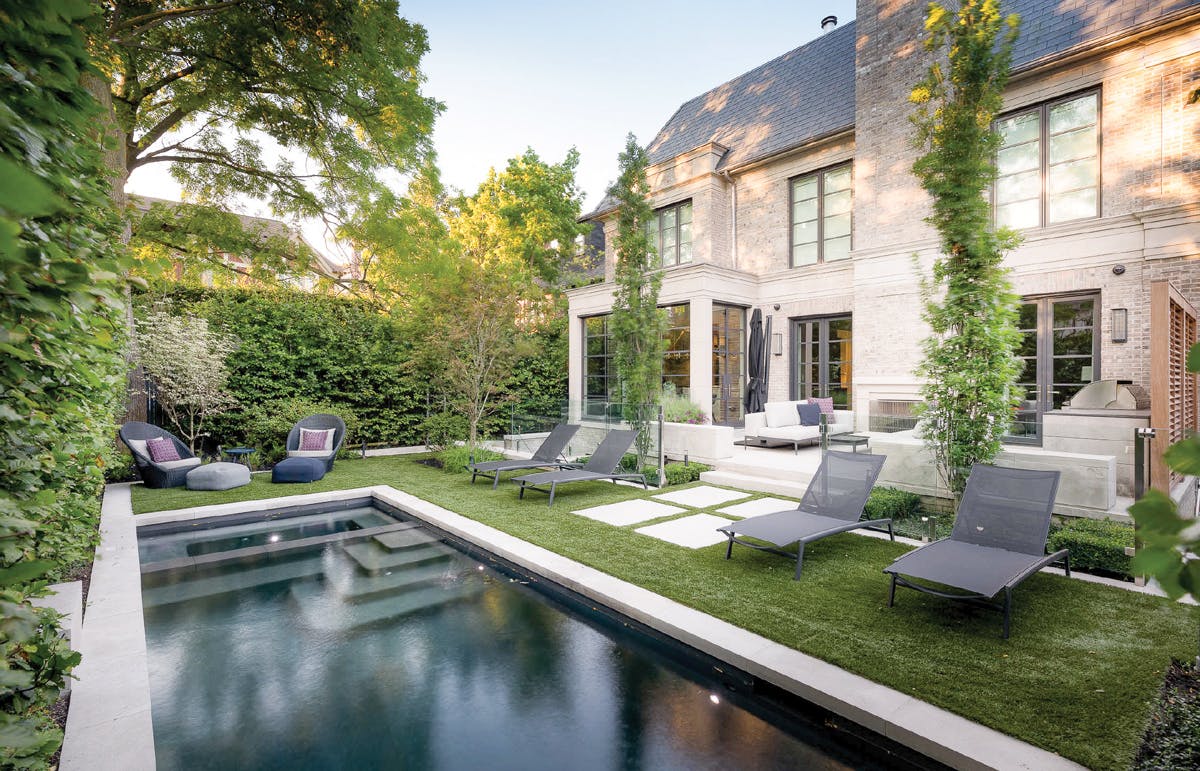 Let your lifestyle inform the layout
The first thing families should consider before installing a pool is their lifestyle. "Every family is unique, and your space should reflect that," says Caley Gibbs, a designer whose family business, Gib-San Pools, goes back three generations, her team specializes in what they call backyard resorts, where the goal is to create an oasis in each client's backyard, rooted in the current and anticipated lifestyle needs of the family.
Without an honest analysis of how your family is going to use the pool, you run the risk of designing something that doesn't get enough use to make the investment worthwhile. "We encourage families to figure out their priorities so that the pool isn't just something that looks nice; it's really something you're truly going to enjoy," says Gibbs. "We often get people to think about their best memories around a swimming pool when they're first starting to plan. Was it lounging at a resort on vacation? Getting exercise? Enjoying a glass of wine by a fire feature nearby?"
One tip to make sure you get the most bang for your buck is to opt for timeless features. This mindset is especially relevant when it comes to design elements for kids. Waterslides, for example, are fun for little ones, but they're an expensive add-on that children eventually outgrow. Gibbs recommends choosing something like a jumping rock instead. They're natural, so they blend into an outdoor setting and won't need to be removed when the kids grow up.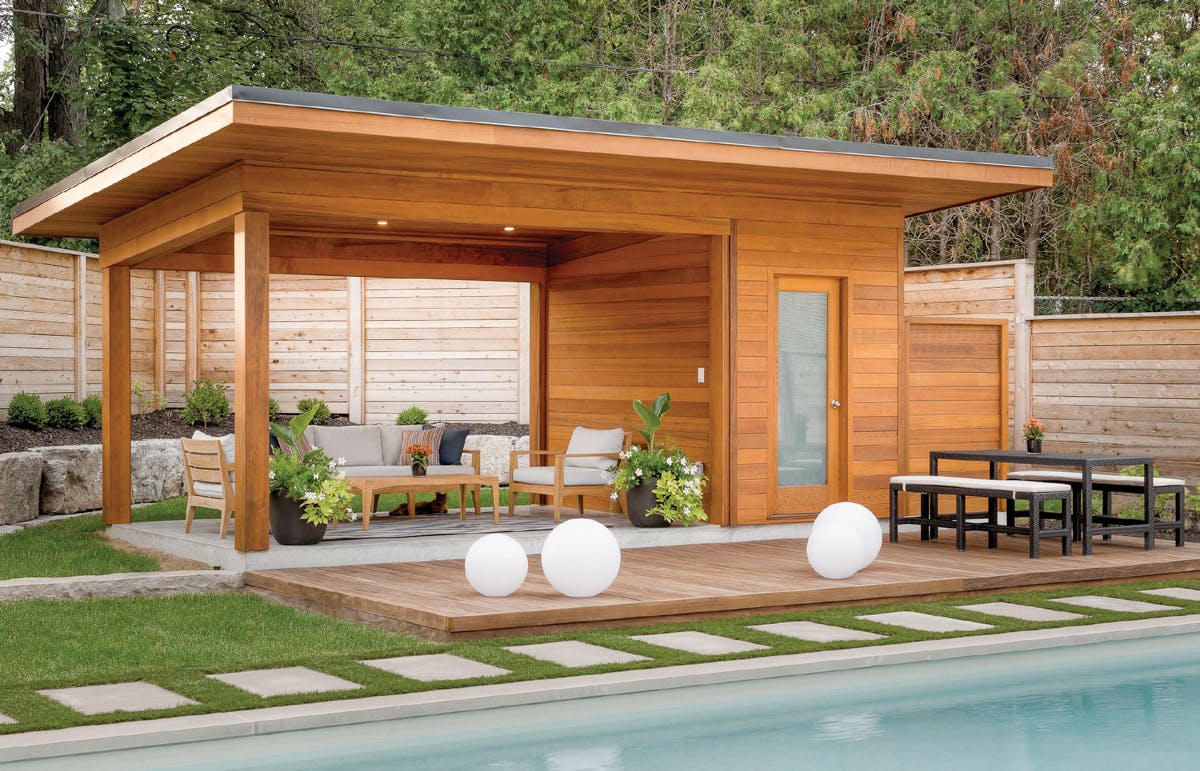 Work with your surroundings
Every backyard comes with its own set of design challenges. From edge flicker caused by distracting sights like neighboring properties and hydro poles, to the surrounding noise of busy streets, several factors can detract from a yard's ambience. In every instance, there are best practices you can leverage to minimize their presence. These tricks help redirect the eye to focal points of your choosing and buffer unwanted noise.
"A great way to minimize flicker and sound is planting a green wall. They bring a lot to the look and feel of the yard and provide privacy, texture, and depth all at once," says Gibbs. "When you walk into the backyard space, your eyes are on the prize and you're really focused on the resort." Plus, the extra layer keeps intrusive sounds at bay.
Sightlines from inside the house will also influence your backyard layout. "We want to make sure the pool and surrounding area enhances the visuals from every angle of the home," Gibbs says. Designing for indoor views is particularly important in homes where the backyard is visible from busy areas such as the kitchen or family room.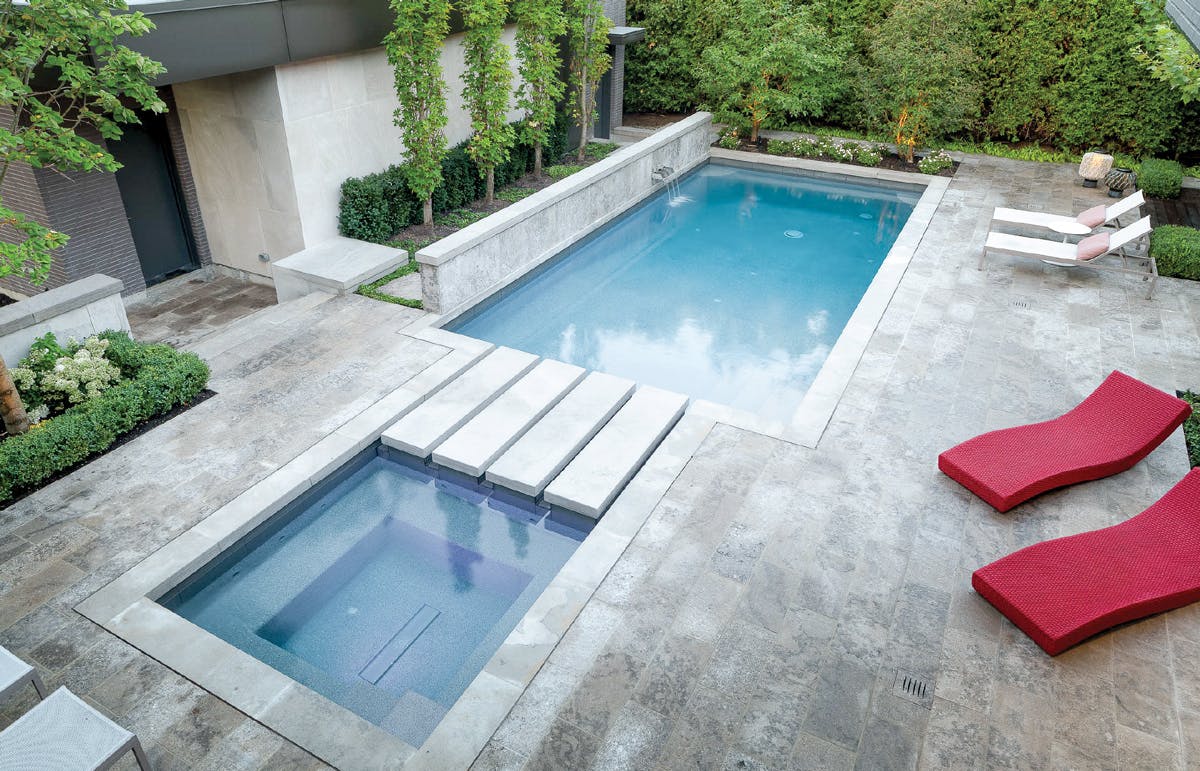 Factor longevity into your material selection
After establishing the design elements, it's time to dive into choosing pool materials. For many of us, a vinyl-lined pool evokes nostalgic throwbacks to childhood pool parties. But while the material brings back good memories and is cost-effective, it's also prone to decomposition.
Agriculture and Agri-Food Canada banned certain additives from vinyl, which has weakened the quality of the material and reduced its life expectancy, explains Gibbs. "But with good maintenance and by watching the temperature of the water, you'll maximize the vinyl's lifespan."
The most tried and tested material for pools is concrete. "In Europe, all the water features are built out of concrete and they're still here all these years later!" says Gibbs. "Concrete pools are the founding father – if you will, and the other types of pools are mimicking it."
Ultimately, the choice of materials comes down to budget and preferences. Work with your designer to choose a finish that fulfills your requirements–whether vinyl, concrete, fiberglass, or aggregate–and learn how to maintain it.
Take the plunge
Adding a pool is an opportunity to completely reimagine the way you use your backyard space. Customization options abound and almost any unwanted element can be tamed with smart design. In the end, if you work your family's taste and lifestyle into the layout, your investment will always make waves.
Ready to dive in? At Billdr, we work with our network of certified professionals to bring your renovations to life.
Our best stories,
once a month.
By providing your contact information, you consent to Billdr sending you monthly emails. You can unsubscribe at any time.
Author

Nicole is a writer, podcast producer, and journalist based in Toronto, Canada. Follow Nicole on Twitter.
About
Billdr Magazine is an online publication packed with design trends and inspiration, expert insights, and personal home renovation stories. From planning a major renovation to navigating construction and maintaining your beautiful home, Billdr Magazine is here for you.